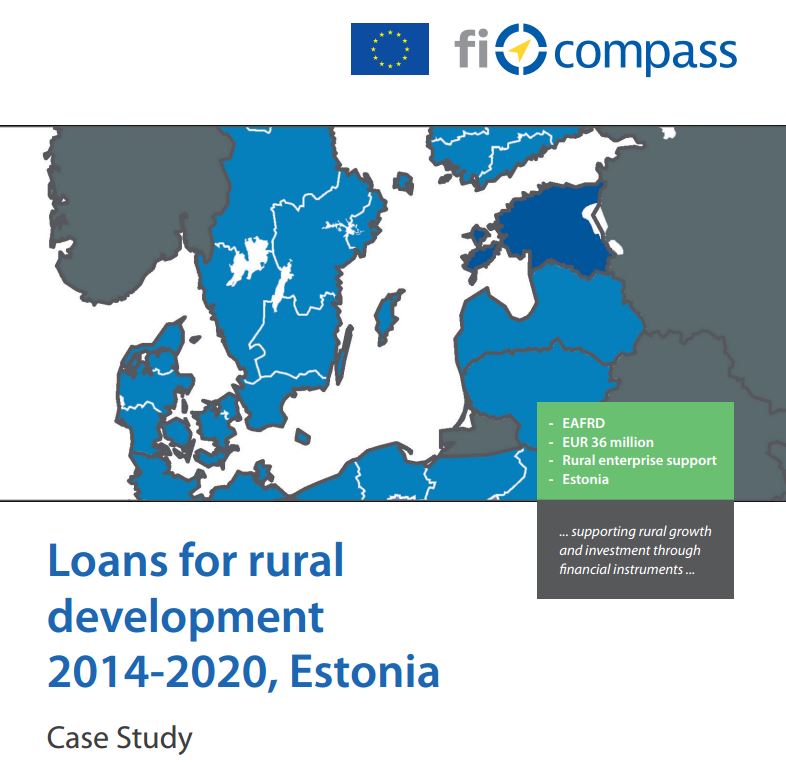 A new fi-compass case study from Estonia showcases Europe's first rural development financial instrument for the 2014-2020 programming period. It will provide loans through the European Agricultural Fund for Rural Development (EAFRD) for agricultural and rural micro, small and medium-sized enterprises (SMEs).
Marko Gorban from Estonia's  EAFRD managing authority said: "The financial instrument allows us to reach a bigger number of enterprises in need of finance. Conditions regarding the collateral, interest rate and repayment period can be considered as a policy tool to reach certain target groups or target certain investments."
Demand for such rural financing was identified through the ex-ante assessment, which confirmed that unfavorable conditions for rural enterprises existed and this meant that their access to credit was poor, hindering growth and productivity potential.  In order to improve overall access to credit the managing authority designed their new instrument in a way that allowed its loans to be combined with EAFRD grants for priority groups like young farmers, start-ups, microenterprises and disabled people among others.
Case study content details the two types of loans that are provided: growth loans of up to EUR 100 000 for micro and small enterprises, and long-term investment loans of up to EUR 3 million for SMEs. These growth and investment loans can be issued at lower interest rates and longer repayment periods than market products are also possible.
Mr Gorban is positive about the results: "Statistics after the first few months are encouraging and prove the demand for such an instrument is real. With limited resources, it allows more projects to be implemented. As it is repayable assistance, we will have the funds also in the future to support the enterprises and projects with similar objectives."
Within just seven months of the opening for applications, 18% of the allocated budget has been approved for disbursement. The eligibility period ends in December 2023 and the repaid funds and interest would be continuously reinvested through the financial instrument.
As an example, the case study highlights how a farmer used a growth loan under the scheme to boost farm production, by increasing the storage capacity for grain. The investment was funded through a financial instrument loan, an EAFRD grant from the Rural Development Programme and the farmer's own funds.
For stakeholders involved in supporting rural businesses, the case study shows how the main challenge of designing and setting up the first EAFRD financial instrument in Estonia was overcome with close cooperation between the managing authority and the state foundation acting as implementing body. This helped during more complex procedures such as conducting the ex-ante assessment and selecting the implementing body. Extensive experience from the 2007-2013 programming period with financial instruments funded from the national budget and the European Fisheries Fund also proved very useful. 
Our new fi-compass case study about EAFRD loans for rural development in Estonia can be downloaded and shared here.