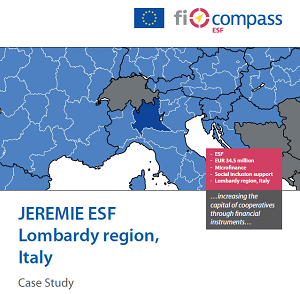 A European Social Fund (ESF) case study from fi-compass explains Italian experience with a financial instrument in Lombardy supporting social cooperatives and social inclusion for disadvantaged people. By combining public and private resources, the financial instrument provided microloans totalling € 31.4 million to 7 850 individuals. These in turn invested in the capital of 526 social cooperatives.
The fund manager, Finlombarda, is a financial institution that supports the economic and social development in Lombardy Region through financial instruments. Its Head of European Department, Paolo Zaggia, summarises the ESF financial instrument's achievements in supporting almost a third of the region's cooperatives: "It was a real system of extended action. Cooperatives have responded well because they are already fairly mature and consolidated in Lombardy. We convinced four private financial intermediaries to invest in five-year microcredits, a type of activity which they would not have thought to do otherwise. Moreover, we did it by putting them in competition with each other through two international calls for tender. This enabled us to offer better conditions to the final recipients, in terms of reduced guarantees, longer-term loans and below-market costs."
The case study describes other success stories from this initiative and also highlights challenges involved with supporting social inclusion. Further information about all aspects of the case study can be downloaded here and more examples of ESF financial instruments can also be found in the Resource Library on the fi-compass website.