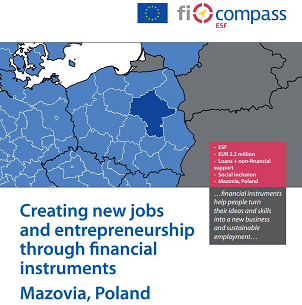 European Social Fund (ESF) stakeholders will be interested in a fi-compass case study that was released recently titled: 'Creating new jobs and entrepreneurship through financial instruments – Mazovia, Poland'. This features a pilot scheme co-financed from Poland's ESF Human Capital Operational Programme during the 2007-2013 programming period.
Information in the fi-compass publication shows how statistics and studies confirmed that access to finance in Mazovia was a problem for individuals who were interested in setting up a business. Lack of personal bank loans for business start-ups of more than PLN 10 000 (circa EUR 2 500) had previously proved to be a barrier to self-employment, and disadvantaged individuals were commonly worse affected by this entrepreneurship challenge.
Addressing such gaps in investment support, the financial instrument offered loans of up to EUR 12 500 at below market interest rates and with reasonable collateral requirements that could be combined together with training and business advice for unemployed people.  
Read more here about how this Polish ESF financial instrument helped to promote entrepreneurship and tackle intra-regional disparities in employment. Further information about other ESF financial instruments can also be found in the Resource Library on the fi-compass website.