State aid guidance for financial instruments is now available from the European Commission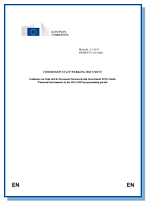 When Member States give aid through financial instruments (co-)financed by the European Structural and Investment Funds, compliance with State aid rules is necessary in order to encourage economic efficiency and prevent that public support unduly distorts competition.
A Staff Working Document has been published by the European Commission to facilitate the application of State aid rules in the field of financial instruments and to point to different possibilities of achieving State aid compliance. You can download and share the Staff Working Document from our EC Regulatory Guidance section of the fi-compass website.