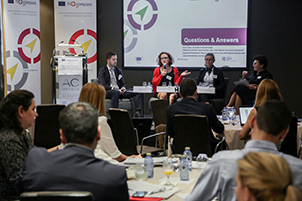 Experiences of designing, setting up and implementing European Social Fund (ESF) financial instruments supporting social inclusion were highlighted in a fi-compass workshop on 3 October 2017 in Madrid.
This second ESF thematic workshop in a series organised by fi-compass gave participants the opportunity to engage in peer-to-peer discussions, particularly on implementation of financial instruments supporting social inclusion and was based on two case studies.
Andrea Da Pozzo (European Commission, DG Employment, Social Affairs and Inclusion) in his opening remarks called for further effort in the take-up of financial instruments under ESF. Social and welfare issues can be addressed through cost-efficient tools such as financial instruments. Opportunities can be further exploited by ESF managing authorities, who can also benefit from capacity building services delivered by fi-compass.
The first case study saw experts from all levels of the National Fund for Social Entrepreneurship, Poland sharing their experience.  Aleksandra Dmitruk, from the managing authority, Agnieszka Waszkiewicz, from Bank Gospodarstwa Krajowego (BGK) and Joanna Wardzińska, Towarzystwo Inicjatyw Społeczno-Ekonomicznych SA (TISE) outlined how national policy and lessons learned from a pilot in 2007-2013 informed the choices they made in designing, setting up and implementing the financial instrument.
This loan instrument is being implemented through a national development bank and financial intermediaries with social missions whose interests are aligned with the investment strategy, encouraging final recipients to create at least 1 250 jobs. Aleksandra Dmitruk, said: "We were very encouraged by the interest from participants and happy to help with detailing the specific solutions we had chosen."
Participants were very interested in the financial and non-financial contributions of stakeholders supporting final recipients. Another issue discussed was how to ensure proper reporting of achievements and State aid compliance.
A second case study highlighted the on-going experience of Comunidad da Madrid contributing ESF resources to an EU level instrument under Article 38.1(a) of the Common Provisions Regulation. Guadalupe de la Mata from the European Investment Fund (EIF) explained the process and shared the lessons learned gained. This first pilot is expected to provide a basis than can be easily replicated in other Spanish regions and other EU countries.
Engaged peer-to-peer discussions included the similarities with the existing SME Initiative, noting the differences for SMEs needing ESF support. Also of interest was the market test conducted by the EIF after the ex-ante assessment, to optimise implementation.
Kremena Grigorova, Fund Manager of Financial Instruments in Bulgaria was impressed by the event's opportunities for networking: "The two case studies were very interesting as in Bulgaria we are in the process of implementing a financial instrument supported by the European Social Fund. The specific questions were interesting. Beyond that, what is very useful is the opportunity for networking and finding people with similar experiences."
Further information about this thematic ESF workshop, including the presentations, is available for viewing and sharing on the fi-compass website.