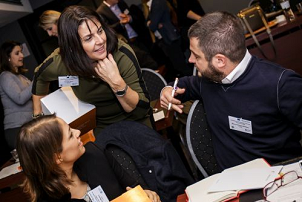 Business strategies and digital innovation for microfinance institutions were the themes for a fi-compass event that took place last month in the Netherlands. Advice about business development services (BDS) for microfinance recipients was also provided during the fi-compass seminar, which was organised with technical assistance from the EU's Employment and Social Innovation Programme (EaSI TA).
Much of the seminar was based around sharing business experiences and operational practices from the Dutch microfinance provider Qredits. Representatives from 15 different countries benefited from these knowledge transfer sessions and discussions during the seminar. Results improved understanding among the participants about business sustainability models and associated opportunities from digital technologies.
Qredits highlighted the added value they have gained from partnership approaches with banks and effective working relations with their funders (private and public). Further knowhow was exchanged about the advantages of adopting personalised approaches for supporting microfinance clients throughout the life cycle of their investment projects.
Introducing voluntary expertise from business mentors and dedicated technology to better serve clients were both also considered very useful within the business sustainability model used by Qredits. Delegates at the fi-compass EaSI TA seminar were particularly interested in learning more about coaching schemes for volunteers and the digital tools that can help to improve credit risk management practices for microfinance institutions.
Further information about the microfinance experience from Qredits is available from the organisation's multi-lingual website.