Thanks to a microloan backed by
SIS Credit
under the ESF financial instrument, a group of friends created Infinite Games Ltd, a social enterprise active in the field of human rights education.
Their bestseller, Barabar (an Urdu Word meaning equality), is a strategic board game that entertains while teaching gender equality and inclusion. Already sold in eleven countries across the EU, the team behind Barabar hopes that it will produce food for thought in order to reduce discrimination of the most vulnerable groups in Bulgaria.
Image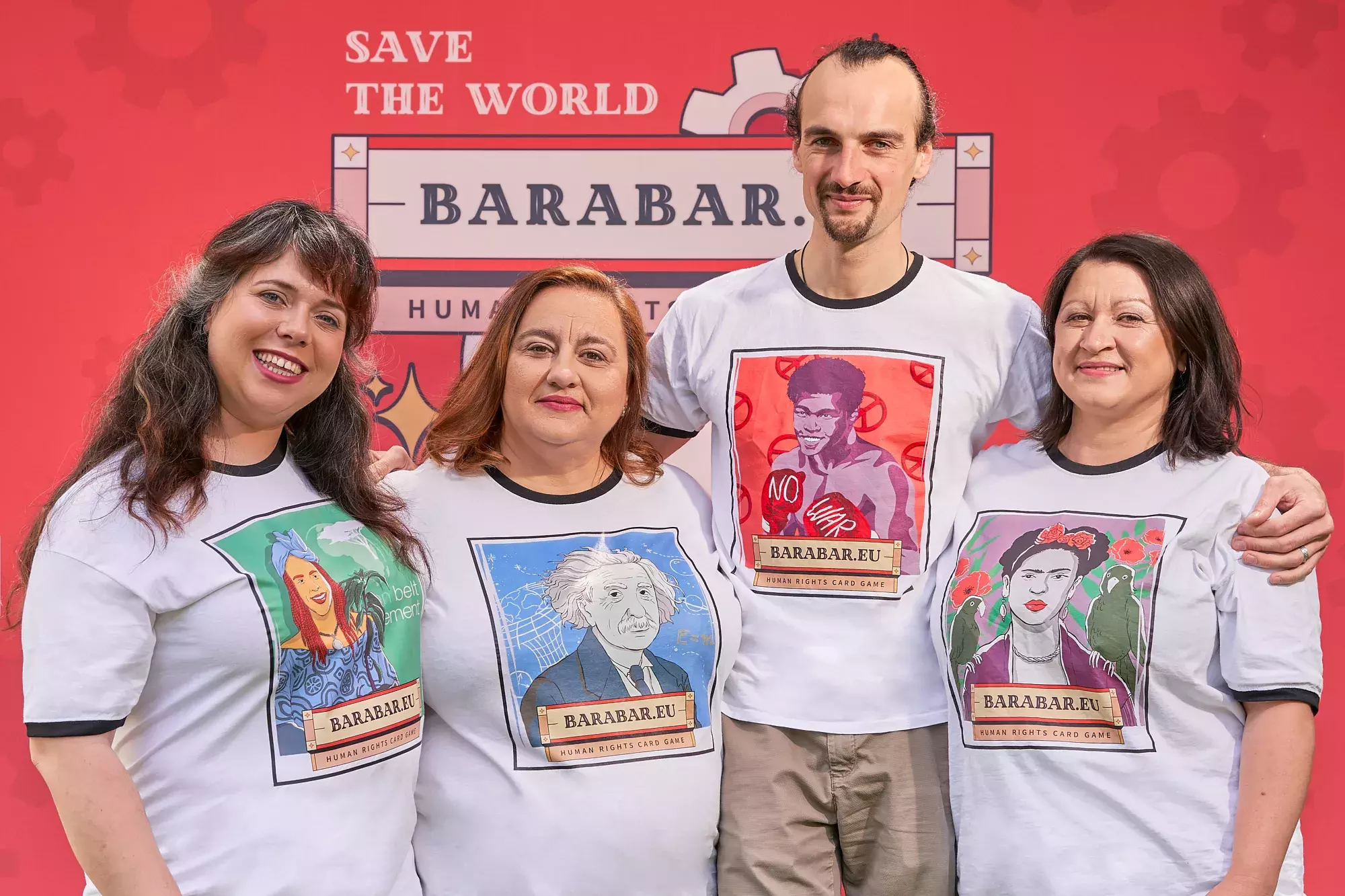 While the shrinking space for civil society has become a global trend, it exhibits different characteristics across different countries.
In a letter sent to the European Union institutions in 2020, several Bulgarian civil society organisations raised alarm over growing threats to their existence. A deterioration of the civic space that Maria Alkalay, a 43-year-old expert in social inclusion and legal aid equally observes in her country:
"The world we live in is extremely volatile. A lot goes on off and online: fake news is the new norm, people protest on a daily basis, civil society space is shrinking under the pressure of the rising radical right. In Bulgaria, people mostly express themselves hatefully against Roma and LGBTIQ+ communities",
she says refusing to be a bystander.
Image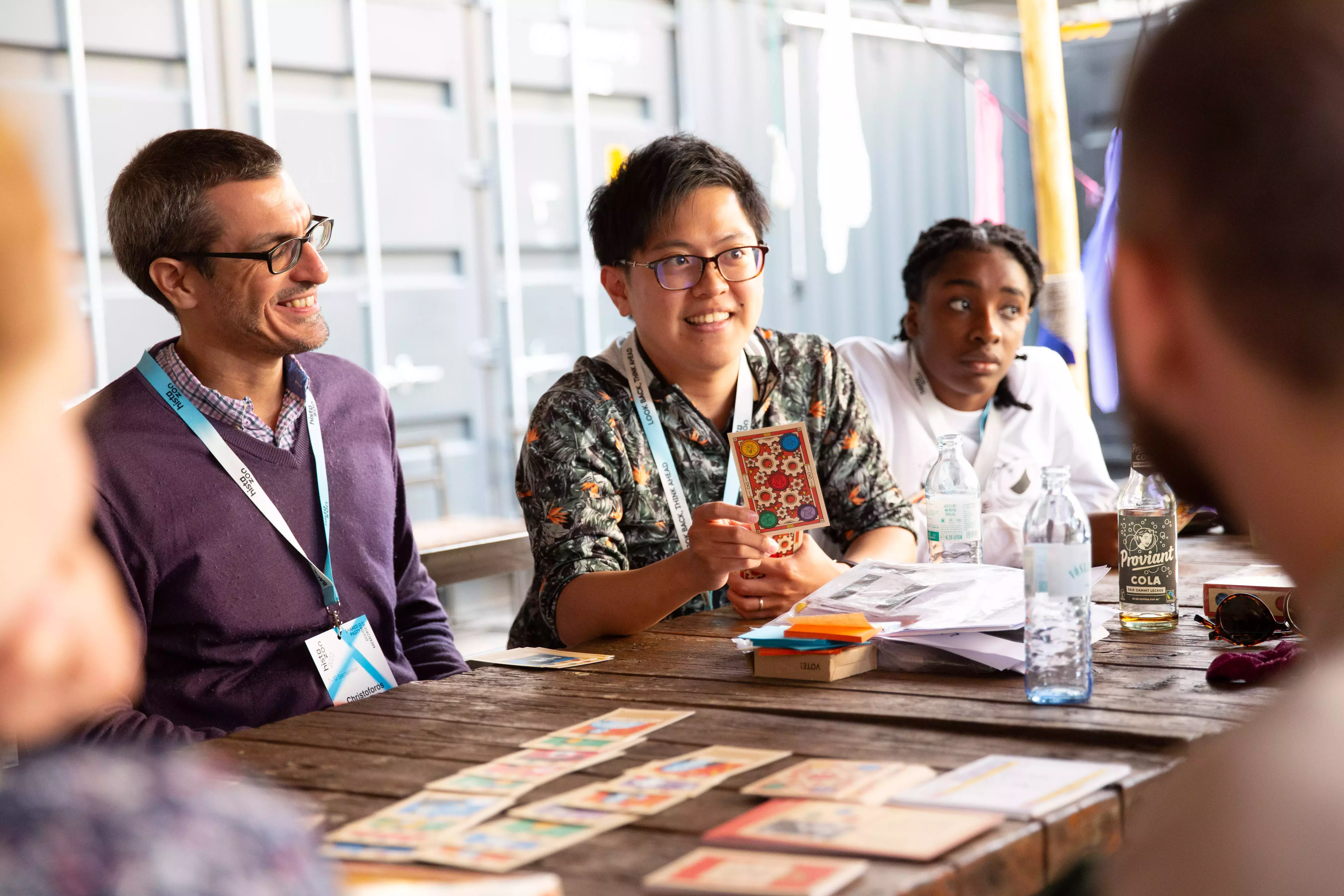 Because human rights have never been "an afternoon tea topic", she needed to approach this important issue in an innovative, yet simple and engaging way which turned out to be gamification.
Her commitment will give birth to the Infinite Opportunities Association (IOA), a social enterprise reaching out to remote rural areas to deliver interactive workshops on gender equality, diversity and inclusion among young people across Bulgaria and the EU.
Barabar for a better tomorrow
Ms. Alkalay has been exploring gamification as a tool in human rights education since 2014. More than 20 people mostly volunteered their time, efforts and skills to create Barabar in two years (2020-2021) from research, through testing scenarios, collecting and selecting clan member characters all the way to designing a prototype and test playing to validate the tool.
The plot and framework have been shaped in partnership with experts such as Sylvia Borissova, Associate Professor of Aesthetics at the Institute of Philosophy and Sociology from the Bulgarian Academy of Science in Sofia, the artwork has been created by the young illustrator Nadezhda Katsarova while the design of the box is the result of a long collaboration with Ana Soraia Santos Mendes, an ex-volunteer at IOA and currently a creative director in Portugal.
Image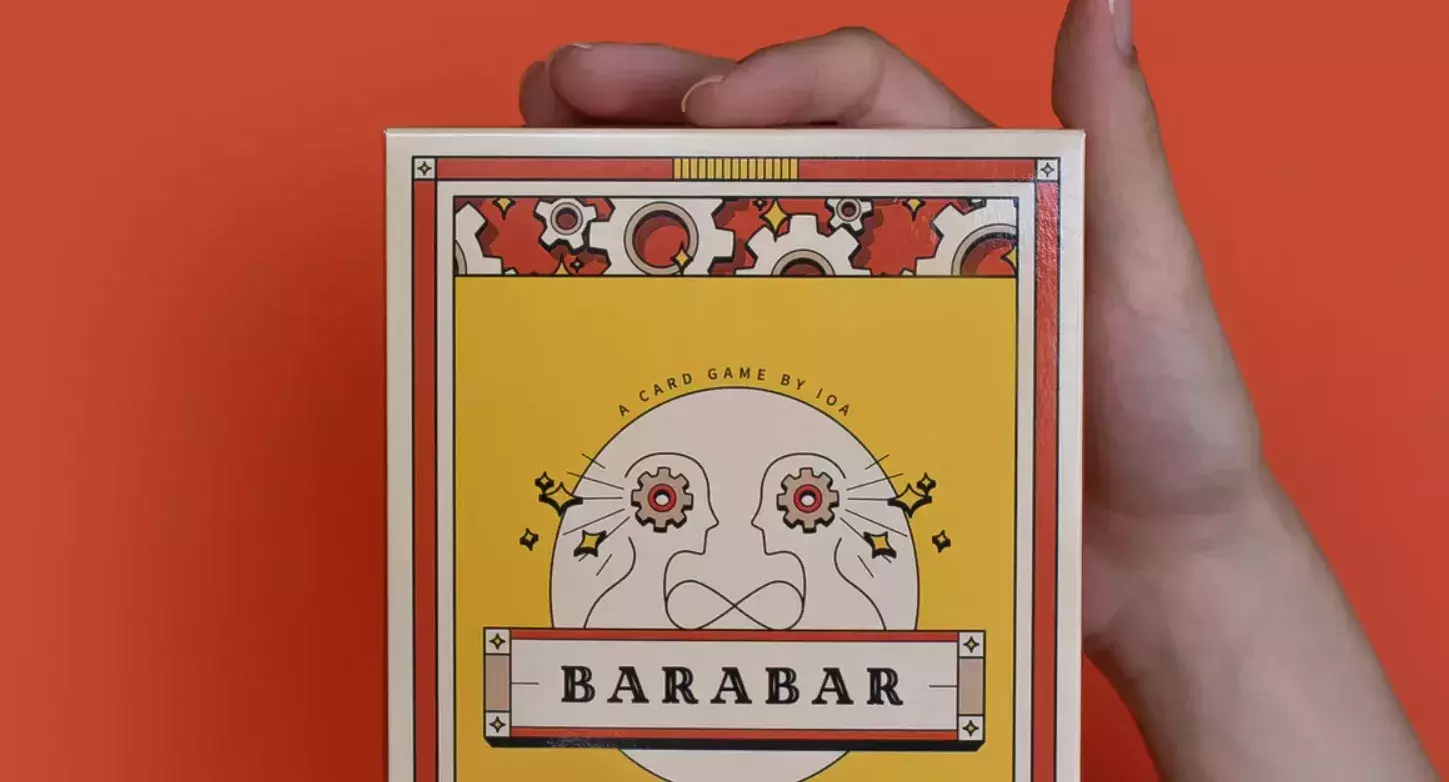 In Barabar, players rescue the world from fifteen apocalyptic challenges including drought, war, radiation, famine all the way to an invasion of giant spiders. There are 75 of the brightest minds of the present and the past (among whom Albert Einstein, Frida Kahlo, Muhammad Ali or even Florence Nightingale) split into five clans: artists, activists, environmentalists, entrepreneurs and scientists. "People just need to pack their imagination and creativity and board the quest to save the Earth", describes the human rights activist.
Their hard work quickly gained recognition as the Barabar card game was selected as a good practice in the field of social innovation in the education sector at the Social Innovators conference held in the Republic of Croatia in November 2021. In spring 2022, it won an award in the LET's GO contest for the Best Business Plan of an NGO, organised by the Bulgarian Centre for Non-Profit Law. "We pitched with Barabar and won a EUR 5 000 award to scale up our business idea", says Ms Alkalay with enthusiasm.
Image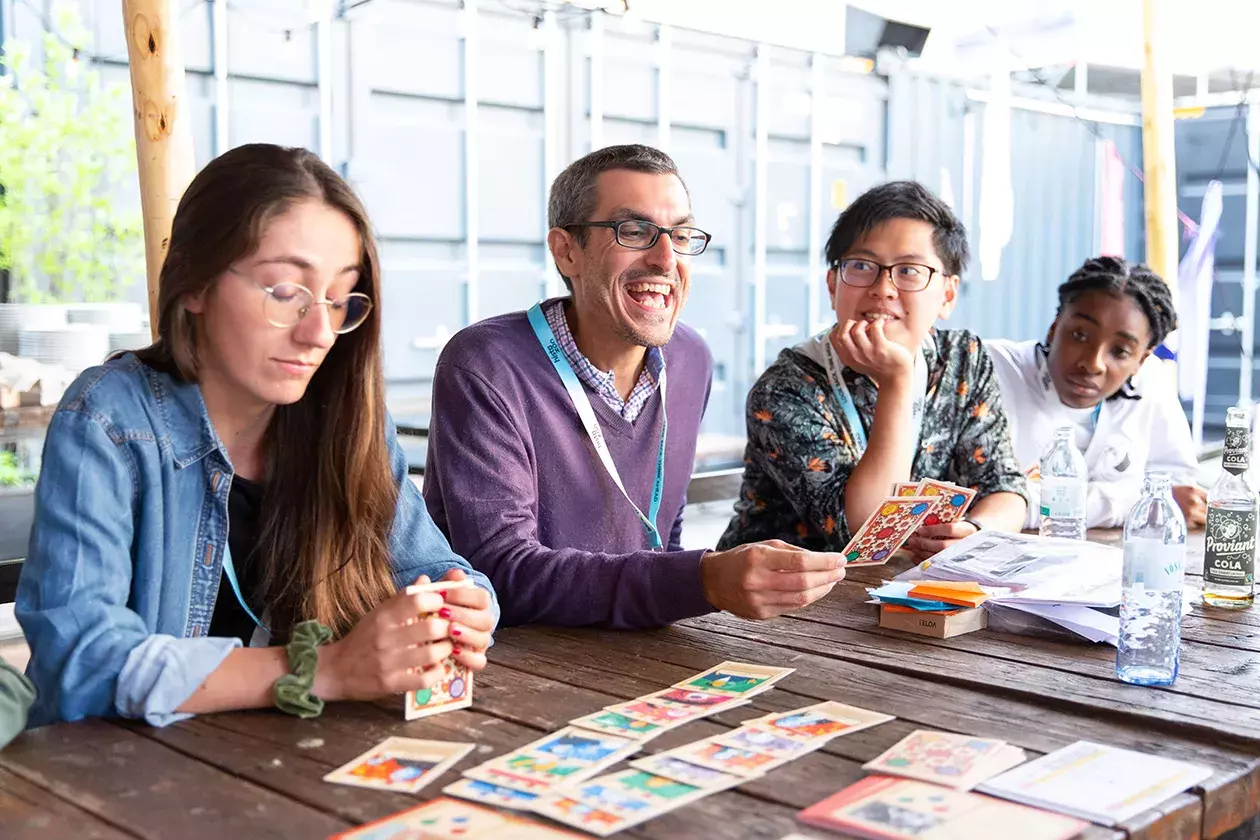 More than just money
The social enterprise has benefited from a EUR 25 000 microloan from SIS Credit, the leader in microfinance and social finance provision in Bulgaria. With a 6-month grace period, a 60-month maturity and a 0.95% annual interest rate, the terms have been "really advantageous and competitive" compared to banks that offered the social enterprise the same products starting at 4.0% interest rate per year.
Infinite Games Ltd (IG), 100% property of IOA and the legal entity that sells the products and financially support the activities of IOA, has invested the whole amount into the initial production of the game. As a result, it can sell and operate in five countries across the EU: in Bulgaria, Spain, Germany, Belgium and the Netherlands.
SIS Credit's microloan is "the easiest financial mechanism especially designed for social enterprises as it lowers the entry thresholds to starting a business in a domain that is not purely commercial and has specific characteristics", stresses Maria Alkalay while she goes on to say:
"Some social enterprises employ people from vulnerable communities who apart from jobs need support to participate actively in society, others like us engage in areas where the profit takes time to accumulate but the concomitant benefit is more valuable than the money itself".
Maria Alkalay has been referred to SIS Credit by colleagues from other social enterprises who have successfully built their community space with a similar loan.
"Social enterprises need tailor-made support both financial and non-financial as well as access to a variety of financial instruments (such as grants, equity, loans and blended finance) first to survive, then to become sustainable and thereafter to grow and develop. I am proud that SIS Credit is perceived by social enterprises in Bulgaria as a trustworthy partner and by many of them- as the only specialised finance provider. We wouldn't be able to support these clients through such a low interest rate loan with low collateral requirements and a long grace period without the risk-sharing microfinance facility set up with ESF resources", says Martina Grigorova, Executive Director at SIS Credit while she adds: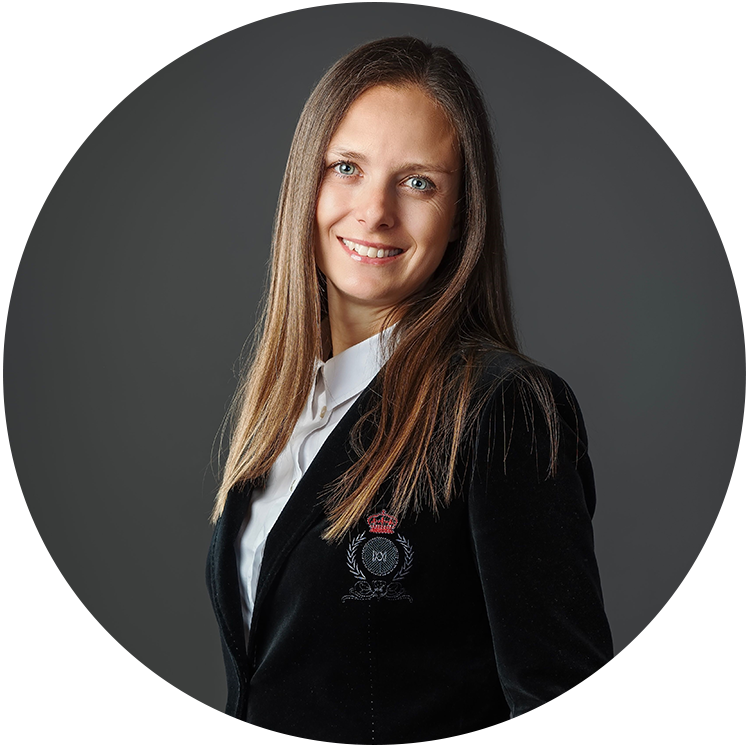 Martina Grigorova, Executive Director at SIS Credit.
"Regarding social enterprises, SIS Credit rely on partnerships with NGOs who are dealing with this specific target group and have a good understanding of their needs. Of course, we are always available for our clients for business development consultancy and support in seeking new markets for their products or to give them an opportunity to gain popularity and recognition thanks to the events that we are organise".
Positive prospects ahead
Players can play Barabar in Bulgarian, English, German, Spanish and Dutch. The Infinite Opportunities Association, which is dealing with the creative part and game development, is also working on a Portuguese version and is considering covering the French, Italian and Greek markets too. "Infinite Games kicked off in mid-2022 and it is still early to project into the future, but the trend is definitely positive", says Ms Alkalay. An achievement that is worth mentioning during an era that is greatly influenced by the Internet and digital technologies. "We intentionally want to stay in the face-to-face interaction domain. Our credo is that people become more tolerant and inclusive, they change their attitudes and perceptions when they meet, talk, engage and get to know the 'different others'" she adds.
Image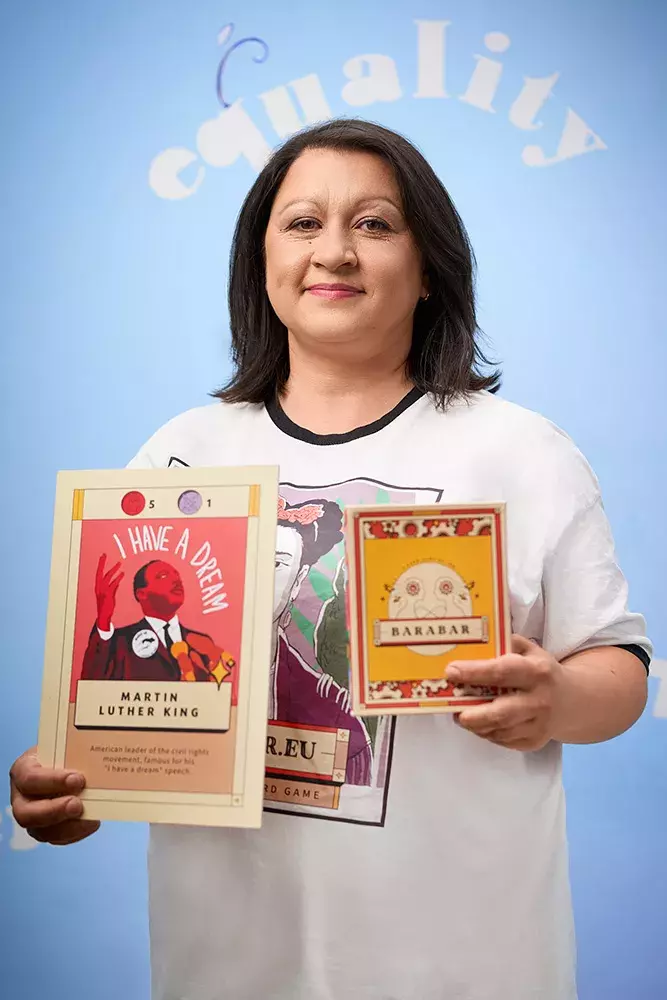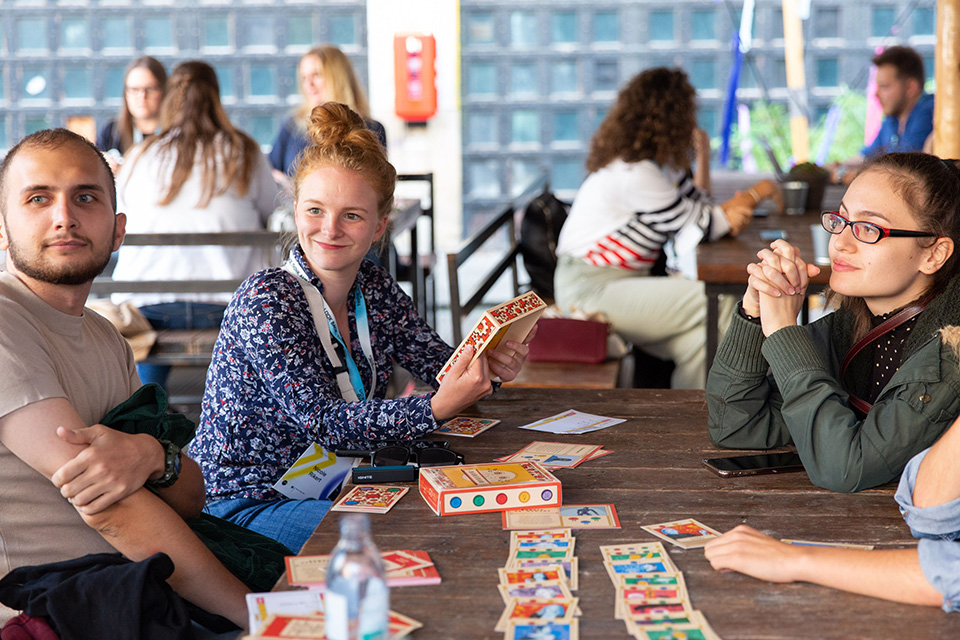 Barabar clients are not only schools and educators but also parents who want to spend meaningful time with their children having fun while talking of the important issues of today. Picture taken at a large-scale event last summer in Germany commemorating the Holocaust. Credit bpb/Zöhre Kurc/Bundesfoto and license CC BY-NC-ND 4.0
A box of Barabar cards costs EUR 45 across Europe and BGN 68 (EUR 35) in Bulgaria, the difference stemming from the different production volumes and distribution costs in the separate language versions. Infinite Games have also invested in the design of merchandise and offer their clients in schools and educational establishments, posters, old-fashioned postcards, a set of magnets to use when playing the game in a classroom as well as tote bags. All the revenue and profits are reinvested in the educational project and volunteering activities that the Infinite Opportunities Association team is developing.
Barabar cards are produced by a small local print house that employs hearing impaired women to assemble the boxes, thus supporting employment, equality and inclusion.
According to Ms. Alkalay, the brand awareness is slowly but steadily growing, bringing target communities to Barabar. Maria and her team get invitations to present not only the game as such but the method of gamification to teachers from formal schools as well as from alternative educational establishments.
"The summer season of 2023 is around the corner and we anticipate a busy period with a lot of outdoor events and opportunities to play", she says with enthusiasm.
Image
"BARABAR fosters young people's creativity which is really important nowadays."
Kamile, teacher from Lithuania
"There is the option to run three campaigns so if you don't like the story, you can create your own and inspire others to follow."
Milan, youth worker from Serbia