ESF financial instruments supporting social inclusion in the 2014-2020 programming period, 3 October 2017, Madrid
Overview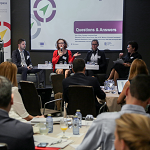 Picture: Mr Ando Siitam, European Investment Bank; Ms Aleksandra Dmitruk, Managing authority, Poland; Ms Agnieszka Waszkiewicz, Bank Gospodarstwa Krajowego (BGK), Poland; Ms Joanna Wardzińska, Towarzystwo Inicjatyw Społeczno-Ekonomicznych SA (TISE), Poland
Financial instruments can be co-funded by the ESF to support social inclusion within ESF Operational Programmes in Member States and regions. The fi-compass thematic workshop on 3 October 2017 in Madrid saw participants from ESF managing authorities, financial intermediaries and other stakeholders from different Member States in peer-to-peer discussions primarily focused on exploring the opportunities given by ESF financial instruments for supporting social inclusion during the 2014-2020 programming period.
Andrea Da Pozzo, Directorate General for Employment Social Affairs & Inclusion (DG EMPL), European Commission, opened the workshop. He highlighted the opportunity for ESF managing authorities and other stakeholders participating in the workshop to take an active role in practical discussions and share their experience. Mr Da Pozzo also invited participants to take advantage of the fi-compass Capacity Building Services (CBS) which can help provide specific advice to ESF managing authorities about financial instruments.
The morning session covered the experience of all organisational levels involved in implementing the loan and counter-guarantee financial instrument within the National Fund for Social Entrepreneurship (Operational Programme Knowledge, Education, Development 2014-2020) in Poland. Aleksandra Dmitruk from the managing authority described how the national policy framework determined the design and set-up of the financial instrument. Agnieszka Waszkiewicz, Bank Gospodarstwa Krajowego (BGK), Poland (fund of funds manager) reviewed how the financial instrument was set up to focus on creating jobs for disadvantaged target groups. Joanna Wardzińska, Towarzystwo Inicjatyw Społeczno-Ekonomicznych SA (TISE), Poland, explained TISE's role and achievements as one of the two selected financial intermediaries, including the jobs created, along with examples of final recipients.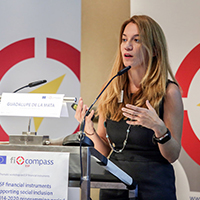 Picture: Ms Guadalupe de la Mata, European Investment Fund
During the extensive peer-to-peer discussion following the presentations a variety of practical details were discussed regarding the implementation of this financial instrument. These included the contributions of financial intermediaries, both through their own resources and through know-how transfer to final recipients, ensuring proper reporting and State aid compliance.
The afternoon focused on the ongoing experience of a pilot project providing ESF financial contributions to the EaSI Microfinance Guarantee product. Key points of interest for the audience during this session included innovative opportunities under Article 38.1(a) of the CPR. Guadelupe de la Mata from the EIF explained the collaboration with Comunidad de Madrid, Spain (managing authority) on this pilot and highlighted ten lessons learned concerning the design of this financial instrument, which is still being discussed with the managing authority and the DG EMPL.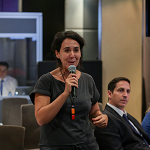 Picture: Q&A and discussion
Peer-to-peer discussions followed this case study presentation and included an exchange about similarities with the SME Initiative available for managing authorities using the European Regional Development Fund (ERDF) and the European Agricultural Fund for Rural Development EAFRD), noting the differences for small and medium-sized enterprises (SMEs) needing ESF support. Peers discussed also the relevance of a robust market test, conducted after the ex-ante assessment. Other topics tackled included management costs and fees, legacy funds and State aid considerations.
Networking opportunities were appreciated by participants who were able to share useful experiences and discuss their ideas with peers and other experts during this fi-compass ESF workshop.
Title
Speakers

National Fund for Social Entrepreneurship, Poland

Ms Aleksandra Dmitruk, Managing authority, Poland

Ms Agnieszka Waszkiewicz, Bank Gospodarstwa Krajowego (BGK), Poland

Ms Joanna Wardzińska, Towarzystwo Inicjatyw Społeczno-Ekonomicznych SA (TISE), Poland

ESF contribution to EaSI financial instrument in Comunidad de Madrid, Spain

Ms Guadalupe de la Mata, European Investment Fund