ESF financial instruments supporting social inclusion in the 2014-2020 programming period, 3 October 2017, Madrid
Overview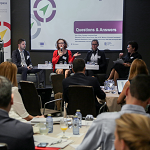 Picture: Mr Ando Siitam, European Investment Bank; Ms Aleksandra Dmitruk, Managing authority, Poland; Ms Agnieszka Waszkiewicz, Bank Gospodarstwa Krajowego (BGK), Poland; Ms Joanna Wardzińska, Towarzystwo Inicjatyw Społeczno-Ekonomicznych SA (TISE), Poland
A fi-compass workshop on 3 October 2017 in Madrid focussed on experiences with European Social Fund (ESF) financial instruments supporting social inclusion in the 2014-2020 programming period.
This second ESF thematic workshop in a series organised by fi-compass, gave participants the opportunity to engage in peer-to-peer discussions, particularly on topics related to the implementation of financial instruments in practice, inspired by the following case studies:
National Fund for Social Entrepreneurship, Poland: implementing a fund of funds through a national development bank as well as financial intermediaries with social missions, and
Comunidad de Madrid, Spain: providing ESF supported financial contributions to an EaSI financial instrument under Article 38.1(a) of the Common Provisions Regulation (CPR).
Experts from Poland (managing authority, the fund of funds manager and a financial intermediary), as well as the European Investment Fund (EIF), shared their experiences and lessons learned.
Participants were keen to enquire into the specifics of the case studies and discuss their own experience with the experts, other delegates as well as representatives from the European Commission (DG Employment, Social Affairs and Inclusion) and the European Investment Bank Group (EIB Group).
Title
Speakers

National Fund for Social Entrepreneurship, Poland

Ms Aleksandra Dmitruk, Managing authority, Poland

Ms Agnieszka Waszkiewicz, Bank Gospodarstwa Krajowego (BGK), Poland

Ms Joanna Wardzińska, Towarzystwo Inicjatyw Społeczno-Ekonomicznych SA (TISE), Poland

ESF contribution to EaSI financial instrument in Comunidad de Madrid, Spain

Ms Guadalupe de la Mata, European Investment Fund