EAFRD financial instruments in the 2014-2020 programming period – State of play and opportunities for Italian managing authorities, Rome, 20 March 2018
Overview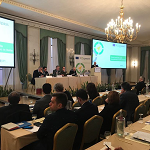 Picture: Event overview
Representatives from a number of Italian EAFRD managing authorities came together at the fi-compass event 'EAFRD financial instruments in the 2014-2020 programming period – State of play and opportunities for Italian managing authorities' on 20 March 2018 in Rome, Italy, to deepen their practical knowledge and to share their know-how and lessons learned about implementation of financial instruments for agriculture and rural development in the current programming period.
The event was opened by Paolo Ammassari, Head of Unit, DISR II – Rural development coordination, Ministry of Agricultural, Food and Forestry Policies, Italy. He welcomed participants and highlighted the importance of financial instruments for agriculture and rural development to boost financing support in this domain.
Nivelin Noev and Nicola Orlando, DG Agriculture and Rural Development, European Commission, presented the current status of implementation of EAFRD financial instruments for agriculture and the rural development in 2014-2020 across the EU. They encouraged managing authorities to use the opportunity to implement EAFRD financial instruments still in the current programming period, benefitting from the support made available for EAFRD managing authorities by the fi-compass advisory platform. Particularly, the comprehensive array of fi-compass support tools, including the targeted coaching, was explained to the audience by Mario Guido, EIB.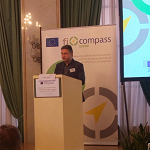 Picture: Nivelin Noev, DG Agriculture and Rural Development, European Commission
Experiences with financial instruments under the EAFRD in Italy were in the focus of the subsequent sessions. Valtiero Mazzotti, Director General, Directorate for Agriculture, Hunting and Fisheries, Emilia-Romagna Region, shared with participants practical insights on the undergoing EAFRD financial instruments in Emilia-Romagna, implemented in the framework of the Italian 'Agricultural Multi-Regional Guarantee Platform (AMGP)'. With this initiative, 9 Italian regions established in 2017 an innovative instrument, managed by the EIF, to support small and medium-sized enterprises in the production, processing and distribution of agricultural products. The state of play of setting up financial instruments under the EAFRD in Lombardy was presented to the audience by Pietro Buonanno, Head of Unit, EU Funds Programming – Rural Development and Administrative Simplification, Lombardy Region. These presentations were followed by a panel session with the two mentioned regional representatives as well as Paolo Zaggia, Financial Products Service Manager, Finlombarda, and Gianluca Palermo, EIF. During this session, participants had an opportunity to further discuss practical topics related to the programming, implementation and control of EAFRD financial instruments in Italy.
Italian managing authorities participating in the event could also deepen their understanding of the implementation process and the operational challenges linked to the setting up of EAFRD financial instruments. These topics were presented by Alessandro Gargani, EIF and included among others eligibility of expenditures, reporting and checks as well as mobilisation of additional resources such as the European Fund for Strategic Investments (EFSI).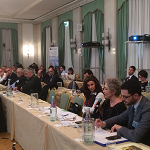 Picture: Q&A and discussion
Later on, EIB's support for financial instruments in the agricultural sector was shared with participants by Ferran Minguella Minguella, EIB. This included the presentation of the EIB's sectoral approach for agriculture and bioeconomy, a summary of EIB activities in Italy in 2017 as well as the range of available EIB products.
Financial intermediaries play an important role in the implementation of EAFRD financial instruments. Livio Schmid, Cassa Depositi e Prestiti (CDP), explained to participants the wide spectrum of CDP's activities to support the agricultural and agri-food sector in Italy, including the involvement of CDP in the above-mentioned investment platform AMGP. Francesca Macioci, Italian Banking Association (ABI), presented a further overview of the support available for the agricultural sector from financial institutions in Italy, providing at the same time perspectives and needs of the Italian banking sector.
All expert presentations were followed by interactive question and answer rounds moderated by Bruno Robino, Head of fi-compass Unit, EIB. Participants used the opportunity for peer-to-peer exchanges with the speakers, which led to many interactive discussions on a variety of practical topics and challenges related to the roll-out of EAFRD financial instruments.
Title
Speakers

Welcome

Paolo Ammassari, Head of Unit, DISR II – Rural development coordination, Ministry of Agricultural, Food and Forestry Policies, Italy

Financial instruments under the EAFRD: State of play

Nivelin Noev, DG AGRI, European Commission

Nicola Orlando, DG AGRI, European Commission

fi-compass activity and targeted coaching

Mario Guido, European Investment Bank

Financial instruments under the EAFRD in Italy: ongoing experiences

Valtiero Mazzotti, Director General, Directorate for Agriculture, Hunting and Fisheries, Emilia-Romagna Region, Italy

Financial instruments under the EAFRD in Italy: ongoing experiences

Pietro Buonanno, Head of unit UO Programmazione comunitaria – Sviluppo Rurale e Semplificazione Amministrativa, Lombardy Region, Italy

Panel session on ongoing experiences in Italy

Pietro Buonanno, Head of unit UO Programmazione comunitaria – Sviluppo Rurale e Semplificazione Amministrativa, Lombardy Region, Italy

Valtiero Mazzotti, Director General, Directorate for Agriculture, Hunting and Fisheries, Emilia-Romagna Region, Italy

Gianluca Palermo, Regional Business manager, European Investment Fund

Paolo Zaggia, Financial Products Service Manager, Finlombarda, Italy

Lessons learned and operational challenges in financial instruments management for the EAFRD

Alessandro Gargani, European Investment Fund

The EIB supporting financial instruments for agricultural sector

Ferran Minguella Minguella, European Investment Bank

Cassa Depositi e Prestiti contribution

Livio Schmid, Cassa Depositi e Prestiti, Italy

Italian banks' perspective

Francesca Macioci, Credit Office, Italian Banking Association (ABI), Italy

Closing remarks

Bruno Robino, Head of fi-compass, European Investment Bank