Financial Instruments delivering ESI Funds, The Hague, 27 January 2016
Overview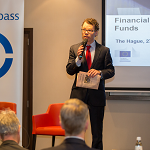 Picture: Norbert van den Hove, Deputy Director Entrepreneurship, Directorate-General for Enterprise and Innovation, Enterprise Department, The Netherlands
On 27 January 2016, financial instruments delivering ESI Funds were discussed at a seminar in The Hague, the Netherlands. The seminar was well-attended and forms part of a series of national seminars that will have been conducted in almost all EU Member States by mid-April 2016.
More than 60 people participated in the seminar in The Hague, including representatives from managing authorities and audit authorities, as well as from the banking and consultancy sectors.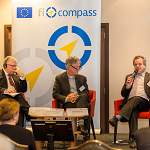 Picture: Leo Bedford, Amber Infrastructure, United Kingdom; Kees van Drunen, Ministry of Economic Affairs, MA EAFRD Netherlands; Ruud van Raak, Rotterdam municipality, MA West Netherlands
The opening speech was given by Norbert van den Hove, Deputy Director Entrepreneurship, Directorate-General for Enterprise and Innovation, Enterprise Department, the Netherlands. Following the opening speech, lessons learned by the ERDF West Netherlands from the 2007-2013 programme and plans for the 2014-2020 period were presented. Furthermore, participants had the opportunity to learn more about financial instruments for agriculture and rural development in addition to the London Energy Efficiency Fund.
The European Commission's Directorate-General for Regional and Urban Policy presented the key novelties and official guidance concerning ESIF financial instruments and opportunities offered by the 2014-2020 framework. This was complemented by a presentation from the European Investment Bank about fi-compass advisory support.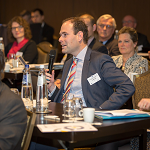 Picture: Event participants
Two parallel workshops during the seminar in the Netherlands focused on hands-on work following the life cycle of financial instruments with particular emphasis on the design phase. The participants actively discussed possible approaches and their own practical experience with a number of crucial issues regarding designing financial instruments and concerning the market assessment needed for the ex-ante assessment.
The success of the seminar demonstrated that there is significant interest in financial instruments in the Netherlands. The delegates' discussions highlighted the potential for financial instruments to support job creation objectives. Many delegates appreciated learning about the advantages of financial instruments in comparison with grants, which helped encourage a move toward increased use of ESIF financial instruments in the Netherlands.
| | Title | Speakers | |
| --- | --- | --- | --- |
| | Lessons learned from the 2007-2013 programme and plans in the 2014-2020 period | Ruud van Raak, Rotterdam municipality, MA West Netherlands | |
| | Financial instruments for agriculture and rural development | Kees van Drunen, Ministry of Economic Affairs, MA EAFRD Netherlands | |
| | London Energy Efficiency Fund | Leo Bedford, Amber Infrastructure, United Kingdom | |
| | Opportunities offered by the 2014-20 framework | Robert Pernetta and Albena Taneva, European Commission (DG REGIO) | |
| | fi-compass advisory support | Pieter Coppens, European Investment Bank | |
| | EC Guidance | Robert Pernetta and Albena Taneva, European Commission (DG REGIO) | |