Episode 7: New Year, new flexibilities for financial instruments
Image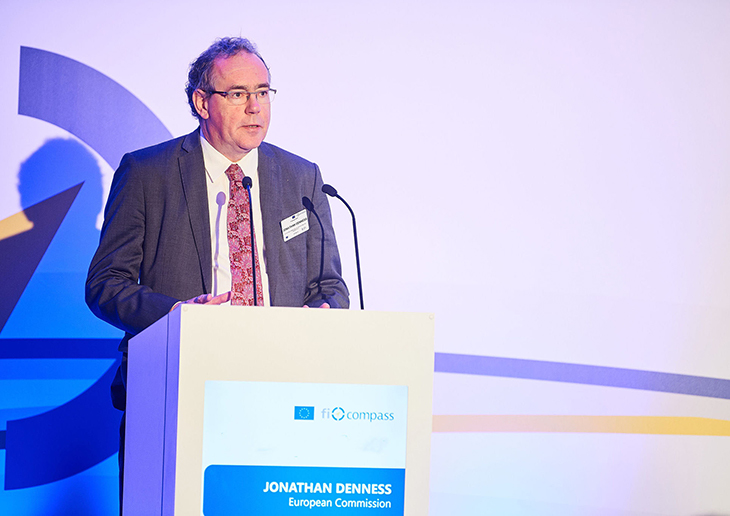 Main topics: New flexibilities for financial instruments under the new Common Provisions Regulation (CPR)
A discussion with Jonathan Denness, Head of Unit in the European Commission's Directorate-General for Regional and Urban Policy, hosted by Frank Lee from the fi-compass team at EIB.
Good morning to all our listeners and welcome to a new episode of the fi-compass Jam Sessions podcast. My name is Frank Lee and I will be your host today.
Today we welcome Jonathan Denness, Head of Unit in the European Commission's Directorate-General for Regional and Urban Policy.
Welcome Jon, thanks for joining us and happy New Year from the fi-compass team.
Thank you very much, Frank, and a Happy New Year to you, all your team and all the financial instruments family listening to us, from all of us sitting in DG Regional Policy. 
I am very pleased to be here today. Why? First, to thank you for all your team's efforts on the difficult circumstances last year and in particular the work we did together to explain the CRII – Corona Virus Response Investment Initiative – amendments to the Common Provisions Regulation (CPR) in May and June. This has actually had an effect on the ground. It has helped to generate over EUR 450 million in additional investments in financial instruments across the EU.
The second thing I want to talk about, is the future.
Indeed, last December fi-compass hosted an online conference for ERDF financial instruments practitioners, which I think was well attended by your managing authorities and other stakeholders.
Given what looks to be a flood of EU grant funded rescue packages being planned for the next Multiannual Financial Framework (MFF), do you still see a role for financial instruments in the future?
Frank, the short answer is 'yes'. During this crisis, EU member states have had to borrow a lot of money to buy Personal Protective Equipment (PPE), to support their economies, businesses, citizens. So there will be a lot of borrowings that will need to be repaid at some point. Now, financial instruments are very economically efficient. One of their major advantages is that they create reflows, i.e. money going back into the financial instruments and these reflows can be used to reinvest a second time in the Member States' economies, and to free up other resources to help repay the loans which have been taken out during this crisis period.
Now, the European Parliament and the Council of the European Union recently approved the Common Provisions Regulation (CPR), which sets out the legislative framework, also for the deployment of financial instruments under shared management funds, for the 2021-2027 programming period.
We see a number of new flexibilities that were introduced for financial instruments. Could you tell us a little bit more about them?
I think the regulations are a lot clearer than previous sets of regulations and they are a lot more concise. We have taken out many words that we felt didn't need to be there. So, we think the regulations are clear and this has the advantage that we don't need to provide thousands of pages of guidance in order to enable people to understand the regulations.
Secondly, and this is a subset of the first part, we think that the definitions are also clearer, the definitions of things like financial instruments and so on and so forth and they are more relevant to the shared management environment.
Then, in terms of true flexibility for the stakeholders on the ground, we have made it a lot easier to combine grants and financial instruments in one operation – something which frankly proved very difficult, not to say impossible to do in this programming period. In the future, grants and financial instruments will have one set of rules – the financial instruments rules – and can be combined into one operation, for example to provide an interest rate subsidy.
Also, payment claims are a lot simpler, there is a flat rate advance, for the set-up of the financial instrument, and then there is repayment on the payments made to final recipients, so if you pay a final recipient EUR 100 000, you can reclaim these from the Commission. Also, management costs and fees are eligible expenditure. So the way the payment claims are treated and the cash-flow will be a lot simpler than the system we have in the current period.
Finally, we have introduced a possibility of contributing to the InvestEU Member State compartment, so you can contribute from your structural funds programmes to the Commission that will make an agreement with an implementing partner to provide guarantees and other investments in your Member State through the InvestEU programme.
That certainly sounds like a good set of flexibilities and simplifications being introduced, and I am sure our listeners will want to know more about that. But of course, I suppose the devil is in the detail.
I think this would also be a good moment, to announce that we are working on a new podcast series, Calling the Tune, to go deeper into the technical aspects of the Common Provisions Regulation (CPR). We believe this new series will provide managing authorities with hands-on advice and useful information on the new regulatory framework, hopefully paving the way for more use of financial instruments in the new programming period.
I am particularly excited about this new podcast series. It is a very approachable way of explaining the new regulatory framework. You said the devil is in the detail, we hope there is not so much detail the devil to get into.
We hope it is a lot clearer and we think that by doing a podcast series, having two of my excellent colleagues explaining the regulations, explaining the meaning behind the words and the meaning behind the different articles, it will really help practitioners to set up financial instruments and will mean that we don't need thousands of pages of guidance this time round.
Indeed and talking about helping our managing authorities, who are currently preparing their programmes for the next Multiannual Financial Framework (MFF). What support can they expect when planning the future deployment of financial instruments as a delivery mechanism under shared management?
I think there are two main sources of support for managing authorities. Firstly, it is through your team in fi-compass, Frank, it will continue to disseminate information in all the ways that it does at the moment including through podcasts and so on, and no doubt some new ways in the future.
But one specific thing that we are going to do is to offer, through fi-compass, the possibility for member states who are at the early stages of planning of financial instruments to have some sort of support for them on a bilateral basis, in order to go through the initial steps to set up financial instruments.
Secondly, DG Regional Policy is not going to be providing thousands of pages of guidance, but that does not mean that we will not answer questions. So managing authorities, as for the current and previous programming period can submit questions to us, which we will then consult internally, and answer on the new regulations.
And of course, DG Regional Policy overall has a profound relationship with all managing authorities and programmes, not just on financial instruments, but also in other areas and that will be useful terms of advice to managing authorities on financial instruments.
Well, we certainly hope that 2021 will be better than last year: Would you like to share with our listeners your New Year's resolutions for 2021, Jon?
Frank, I do not have any. And that is because in my experience, and I was listening to the radio the other day, by this time in January, 90% of New Year resolutions have already been abandoned so I don't make New Year resolutions, but I do have hopes.
I hope that everybody will get back to normal, as soon as possible. 
Secondly, some of the REACT-EU money, which is money that is added to the 2014-2020 programming period over the next two years in order to help member states recover from the crisis, will be channelled through financial instruments. We changed the rules last year, to make it a lot easier to extend existing financial instruments and there will be plenty of money available to member states to do that this year. 
Finally, now that we have a new Common Provisions Regulation (CPR) agreed for the new programming period, we will have many ideas for investments in financial instruments, new instruments being set-up, but also using the flexibilities and the new regulations rolling over existing financial instruments with EU money. 
There are my hopes for 2021, Frank.
A big 'thank you' also to our listeners for tuning in today to this episode of the fi-compass Jam Sessions podcast. If you have any questions or want to suggest a new podcast topic, send us an email at info@fi‑compass.eu.
Do not forget to also follow us on Social Media to receive more information on our new podcast series for 2021!
From the fi-compass team, I wish you best wishes for 2021 and happy financial-instrumenting!