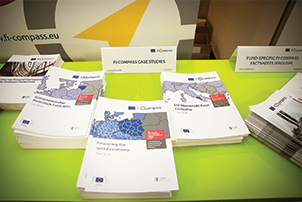 As part of the ongoing actions to ensure that fi-compass remains aligned with stakeholders' needs, a user survey was carried out at the end of 2015. It highlighted that advice about financial instruments for Small and Medium-sized Enterprises (SMEs) is a top priority for many fi-compass stakeholders. Speaking about this aspect of the survey's findings, Stefan Appel, Head of DG REGIO's Financial Instruments and International Financial Institutions Relations Unit, said "The survey showed that a common topic of interest for fi-compass stakeholders relates to competitiveness of SMEs. These results reflect the role of managing authorities from across the EU to support SMEs, which are considered to be a key driver of growth and employment for the EU."
Mr Appel goes on to explain that, "Setting up financial instruments for SMEs helps to facilitate their access to finance and stimulate their business environment. fi-compass is already providing specific advice and information on SME instruments via its website resources. These include a variety of useful case studies as well as the presentations from fi-compass events that showcase financial instruments targeted towards SMEs."
For example, the fi-compass seminar in Bulgaria presented SME support experience in using financial instruments. Similar case study experience covering useful advice and information concerning SME instruments is provided throughout our event series. In Madrid for example, Pilar Durán Solano explained the JEREMIE scheme implemented in Extremadura, Spain. She also shared her views in a video interview, observing some of their lessons learned, such as: "It is important that the manager of the holding fund has sufficient knowledge of the financial market and European funds."
Further success factors for SME financial instruments noted in our fi-compass advisory materials include efficient coordination between all parties and local expertise. Our latest fi-compass case study also includes experience demonstrating how effective communication between partners and how the fund manager's experience level have contributed to the successful design and implementation of SME loan funds in Malta.
The Maltese case study is a useful example of an instrument providing financing packages for SMEs using assistance from the European Regional Development Fund (ERDF). It multiplied an initial ERDF investment of EUR 10.2 million to result in a total of EUR 62.6 million being invested in SMEs. Furthermore, the financial intermediary provided non-financial services such as coaching and mentoring. This extra support is considered to be extremely effective, particularly for start-ups with limited financial expertise.
The main partners involved in the implementation and monitoring of the Maltese scheme were the managing authority (Planning and Priorities Co-ordination Division under the Ministry for European Affairs and Implementation of the Electoral Manifesto), the guarantee fund manager (the European Investment Fund), the financial intermediary providing loans (Bank of Valletta), and the investment board of the holding fund. The success of the scheme was due in part to effective marketing and promotion from the Bank of Valletta towards final recipients, which was also made possible by the effective cooperation between the parties.
See the fi-compass website for further resources concerning SME finance.