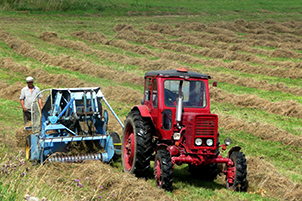 Member States' real-life experiences of using financial instruments for rural development were explained as part of the fi-compass seminar in Rome on the European Agricultural Fund for Rural Development (EAFRD). Knowledge sharing included practical advice by Inga Balžekaitė from the Lithuanian Agricultural Credit Guarantee Fund (ACGF) who explained that, "If we want to have a long-running guarantee scheme, first of all we need to have an efficient organisational structure. As well we need to have good 'eyes and ears' to see and hear what is going on in the market and to see what are the needs of the beneficiaries. We also need the capacities and administration to properly implement a guarantee scheme."
EAFRD managing authorities that are interested in learning more about guarantee funds in action could gain from Ms Balžekaitė's perspective on success factors for the ACGF. She emphasised the importance of having robust expertise in the agricultural sector and good partnerships with a large number of financial intermediaries. These are the organisations that provide the actual assistance to EAFRD beneficiaries, and in the ACGF case they include banks, credit cooperatives, and leasing companies.
"Simplified procedures in guarantee requests and guarantee obligations" were other success factors highlighted from Lithuania. Participation in the European Association of Guarantee Institutions was also considered to be useful for learning from best practice exchanges covering other countries' financial instruments.
Applying and fine-tuning such success factors has helped the ACGF to make beneficial contributions to supporting Lithuania's rural economy. Ms Balžekaitė pointed out that guarantees can help to provide "better lending conditions like a longer payment period or lower requirements for collateral". Another direct benefit has been that the guarantees help farmers to gain 'credit history'. "This is very important for the agricultural sector beneficiaries that face difficulties with book keeping or financial literacy", she added.
Referring to benefits for financial intermediaries, Lithuania's experiences reinforce the advantage that "guarantees give capital relief to the banks so in that case they can provide more loans". Specialised agricultural knowledge is available through the ACGF and this has been useful for assisting financial intermediaries in carrying out accurate risk assessments.
Rural development results
A review of the ACGF's portfolio of guarantees for investments, working capital, and start-up assistance shows that the maximum guarantee amount has been approximately EUR 1.16 million and the average assistance value EUR 78 000. The duration of these guarantees was on average four and half years. The one-off guarantee fee, depending on various probabilities of default, has been up to 3%.
Guarantees in the ACGF are complemented by preferential loans from an EAFRD financial instrument. This was designed during the economic crisis to facilitate increased uptake of funding from Rural Development Programme measures targeting modernisation of agricultural holdings and processing of agricultural products. Results saw the participation of 18 financial intermediaries in implementing 475 loans totalling EUR 39 million. The average assistance provided was EUR 83 000.
Looking to the future, Ms Balžekaitė shared information about a new financial instrument that will be launched for Lithuanian farmers. This 'Reflow Fund' will use money that has been revolved from previous 2007-2013 financial instruments. It has been developed using an ex-ante assessment that identified a market gap for access to credit in the dairy sector.
More details about the ACGF financial instruments are available from the event presentation on the fi-compass website. These include further analysis of the ACGF portfolio from the past five years, such as data showing that farmers accounted for 70% of the final recipients and that the investments were used for a variety of purposes, such as new production systems and acquisition of land or assets.