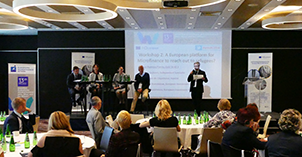 Microfinance expertise from fi-compass was involved in five knowledge sharing sessions at the European Microfinance Network (EMN) Annual Conference in Warsaw on 16 and 17 June 2016. This support from fi-compass was provided through the EU Programme for Employment and Social Innovation Technical Assistance (EaSI TA).
A pre-conference event titled 'The Investor's Game' was well attended by microfinance practitioners. These had the opportunity to learn from a panel of high-level investors and microfinance institutions (MFIs) including The European Investment Fund CoopEst, Banca Etica, the French MFI Adie and the Georgian MFI JSC MFO Crysta. Panellists discussed their experiences as MFIs around topics such as how to: attract the right investors; options for testing potential investors' own capacity to raise funds from public, private/philanthropic, and commercial investors; as well as points to note for proposals being considered by an investment committee.
Participants also emphasised the most important points for a successful investor's pitch, such as a clear and well defined strategy, precise figures, indications of the social and financial impact, as well as clear statements of what precisely is needed. Marina Grigorova from the Bulgarian MFI SIS Credit found the information useful saying that "the workshop gave the opportunity to closely interact with the investors and to better understand their expectations."
During the main conference a fi-compass EaSI TA session was dedicated to identifying key priorities for developing a European microfinance platform for the integration of refugees. Different tools were reviewed that could be used to enhance the capacity of the microcredit sector to serve "mobile" clients.
Further fi-compass inputs from EaSI TA expertise at the EMN event involved advice and analysis on how microinsurance can act as a mechanism to protect clients, improve customer experience and create business opportunities for MFIs. Conclusions from the session encouraged MFIs to think "outside the box" when considering offering microinsurance services and all speakers agreed that simplicity is key success factor.
Other practical knowhow explained at the EaSI TA workshops focused on how to run effective Business Development Services (BDS). Participants explored what aspects of European BDS models have had positive impacts for their target audiences.
The conference's final EaSI TA workshop centred on the EU Code of Good Conduct for Microcredit Provision. Stakeholders presented their experiences with implementing the Code, the related application process and accreditation criteria, plus the potential for the Code's future.
Further information about the EMN annual conference and the different plenary and workshop sessions can be found at www.emnconference.org