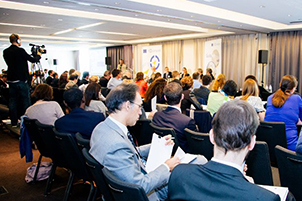 A new round of knowledge sharing events is underway through fi-compass to help Member States and regions implement financial instruments. These include an event dedicated to Commission guidance, and also a series of seminars with thematic focus, such as those for revolving funds supporting energy efficiency investments or small and medium-sized enterprises (SMEs). Other events in the fi-compass pipeline will feature advice about agricultural instruments as well as microfinance.
A first event entitled 'Selection of bodies implementing financial instruments under ESIF' took place in Brussels on 27 September 2016. During the event, experts from the European Commission explained a new guidance note and the procedures for selecting bodies to whom the managing authorities may entrust the financial instruments implementation tasks as foreseen in Article 38(4) (b) of the Common Provisions Regulation.
This event was well attended by a cross-section of managing, audit, and certifying authorities. Many other participants from national or regional governments, financial intermediaries and European Institutions also benefited from informative presentations, discussion rounds, and networking opportunities.
Describing the background to the seminar, the Head of DG REGIO's Financial Instruments and International Financial Institutions Relations Unit, Stefan Appel said that: "Financial instruments have proven to be an efficient and effective deployment mode to reach the objectives of Cohesion policy. The set-up of financial instruments and the selection of financial intermediaries is a very important part of setting up successful instruments. So today's event explains a guidance note produced by the European Commission on how the Pubic Procurement Directive can be implemented and what are the possibilities and implications and also what are the possible exceptions which may help Member States to set up their financial instruments."
Presentations and discussions during the event focused on public procurement requirements and possible exceptions for contracting authorities when selecting bodies implementing financial instruments. European Commission experts in this field explained the applicable rules and pointed out common errors through several detailed presentations.
Speaking at the seminar, François Arbault, Head of DG GROW's Public Procurement Strategy Unit emphasised: "The message that we are keen on passing today is that public procurement has to apply to the selection of bodies implementing financial instruments, such as financial intermediaries. We have to be sure that there is no undue benefit to a private operator and also that competition is not distorted. Competition is key to performance so if the selection is made on a competitive basis we can be sure that the performance will be the best possible in the interest of the citizens."
Flexible selection regulations
Another main message from DG GROW stressed that public procurement rules are not very complicated and Member States should not be afraid to use them. Mr Arbault described how the Commission's Public Procurement Directive offers flexibility for managing authorities to choose selection procedures that best fit their national and/or regional needs. "We are offering a toolbox so we are not prescribing any particular way. There are many different routes that are available to the managing authorities and it is for them to make their decisions. Direct award is possible in some circumstances."
Further information about these options noted that this new guidance is not introducing additional rules. Its purpose is to explain existing public procurement legislation that applies to the selection of bodies implementing financial instruments, such as financial intermediaries.
Carole Mancel-Blanchard, Deputy Head of DG REGIO's Legal Affairs Unit, told the fi-compass audience: "The guidance note on the selection of bodies implementing financial instruments clarifies the rules applicable to selection. It explains that the selection must be done according to public procurement rules and principles."
"At the same time it highlights the exceptions and conditions which allow Member States, managing authorities, and intermediate bodies to directly entrust tasks of implementation of financial instruments to the European Investment Bank, the European Investment Fund and International Financial Institutions." Ms Mancel-Blanchard also confirmed that exceptions can apply to public contracting authorities in the Member States, as the Public Procurement Directive allows for in-house award or inter-administrative cooperation procedures.
Summarising the relevance of the procurement rules for selection she said: "We believe the guidance note is useful for managing authorities in order to avoid irregularities down the road which could lead to financial corrections."
Satisfied stakeholders
Question and answer sessions during the seminar gave participants (who came from all over the EU and included representatives from each of the European Structural and Investment Funds) a lot of opportunities for constructive exchanges.
For example, Koitmaa Eduard from Estonia's Ministry of Rural Affairs (and managing authority of the European Maritime & Fisheries Fund) found the information useful because: "We are at a phase where we are looking for a body that can implement a financial instrument. We are trying to begin with public procurement and for me personally it was kind of 'foggy' about what we should do next. Today's event gave me a very clear view of what we should do next and we also had very fruitful discussions with other Member States' representatives."
Similarly positive feedback was received from the financial intermediary sector, with Giorgio De Bin of Italy's Coopération Bancaire pour l'Europe noting how the event: "was really useful because it clarified some points in the implementing procedures which we are going to explain to our associated banks in order to help them to participate in the call that managing authorities will do. "
All the material presented at the event is now available through the fi-compass website and participants were encouraged to share this information with their colleagues through their organisations' internal and external newsletters, websites and social media channels. Such knowledge sharing is expected to help boost the multiplier effect from the fi-compass seminar and further increase understanding around the Member States and regions about procedures for selecting bodies implementing financial instruments.