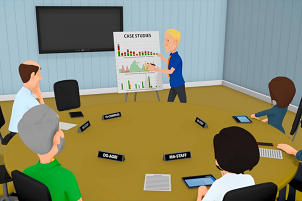 While many of Europe's Rural Development Programme (RDP) managing authorities are already exploring what financial instruments can bring for their economies, others are still relatively new to the subject.  A new video from fi-compass has been produced to help these managing authorities move forward with using the European Agricultural Fund for Rural Development (EAFRD) for revolving financial instruments. The video is based around a story of a typical rural area with entrepreneurs like young farmers, tourism providers, and family farms, as well as a context that could often be common for EAFRD managing authorities. 
Titled 'Filling gaps in agricultural and rural finance' this new five minute animated film shows how EAFRD financial instruments can be useful for the rural economy. It explains the path that managing authorities who are unfamiliar with financial instruments could follow to set them up, including using help from fi-compass to start the process of designing a financial instrument.
Topics covered by the film include the importance of ex-ante assessments, as well as the advice available for RDP managing authorities from the fi-compass Targeted Coaching service, and the series of dedicated events that fi-compass organise for DG AGRI about EAFRD financial instruments.
The film was launched at the recent flagship fi-compass conference on EAFRD financial instruments for agriculture and rural development in 2014-2020, where it was well received by the conference audience. Dana Rebega, Director of the General Directorate for Rural Development at Romania's EAFRD managing authority welcomed the new video saying: "The cartoon broadcast during the fi-compass conference was very interesting. Actually, its tutorial information is useful for managing authorities as well as for intermediaries. To a certain extent, it also helps other audiences get acquainted not only with fi-compass but with the potential of financial instruments under EAFRD".
You can view (as well as share) the new EAFRD animated film through the fi-compass YouTube channel.