Image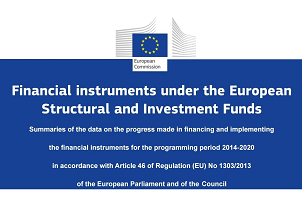 The European Commission has published the first summaries of data on financial instruments in the 2014-2020 period. They provide first insights into the progress in setting up financial instruments under the European Structural and Investment Funds (ESIF) covering the years 2014 and 2015.
Data in the summaries provide positive and encouraging evidence on the progress in setting up and operating financial instruments. They highlight that, despite the early stage of programme implementation, managing authorities across no less than 21 Member States can already report progress on financial instruments as of end of 2015. For more than 130 financial instruments ex-ante assessments have been already concluded and for about half of them funding agreements between managing authorities and financial intermediaries have been signed. Managing authorities in 12 Member States have committed a total of EUR 5.7 billion to financial instruments across four ESI Funds (no data on progress are available for the European Maritime and Fisheries Fund - EMFF).
Much of the progress data reported refers to the European Regional Development Fund (ERDF), with some instruments in progress under the Cohesion Fund, the European Agricultural Fund for Rural Development (EAFRD) and the European Social Fund (ESF). Financial instruments are mainly used for supporting small and medium-sized enterprises (SMEs) and the low carbon economy, which were areas where financial instruments have already been used in the past period. But the data also indicate that financial instruments will be used in new areas such as support for investments in information and communication technology, for innovation, research and development, employment and labour mobility, as well as transport infrastructure.
The data reveal significant geographic differences in progress in setting up financial instruments; some Member States have not yet completed ex-ante assessments, whilst in others there are financial instruments that are already on a second round of investment. Examples of success stories are highlighted such as the ex-ante assessment for Sweden, which resulted in the establishment of the Swedish Venture Initiative, an instrument combining ESIF with resources from the European Fund for Strategic Investments (EFSI). The summaries also highlight one of the first financial instruments that have become operational in the 2014-2020 period, the Lithuanian housing renovation fund, which was presented at the first thematic fi-compass event on energy efficiency in Vienna in October 2016.
You can download the publication including its detailed data-set per ESI Fund from the European Commission website.