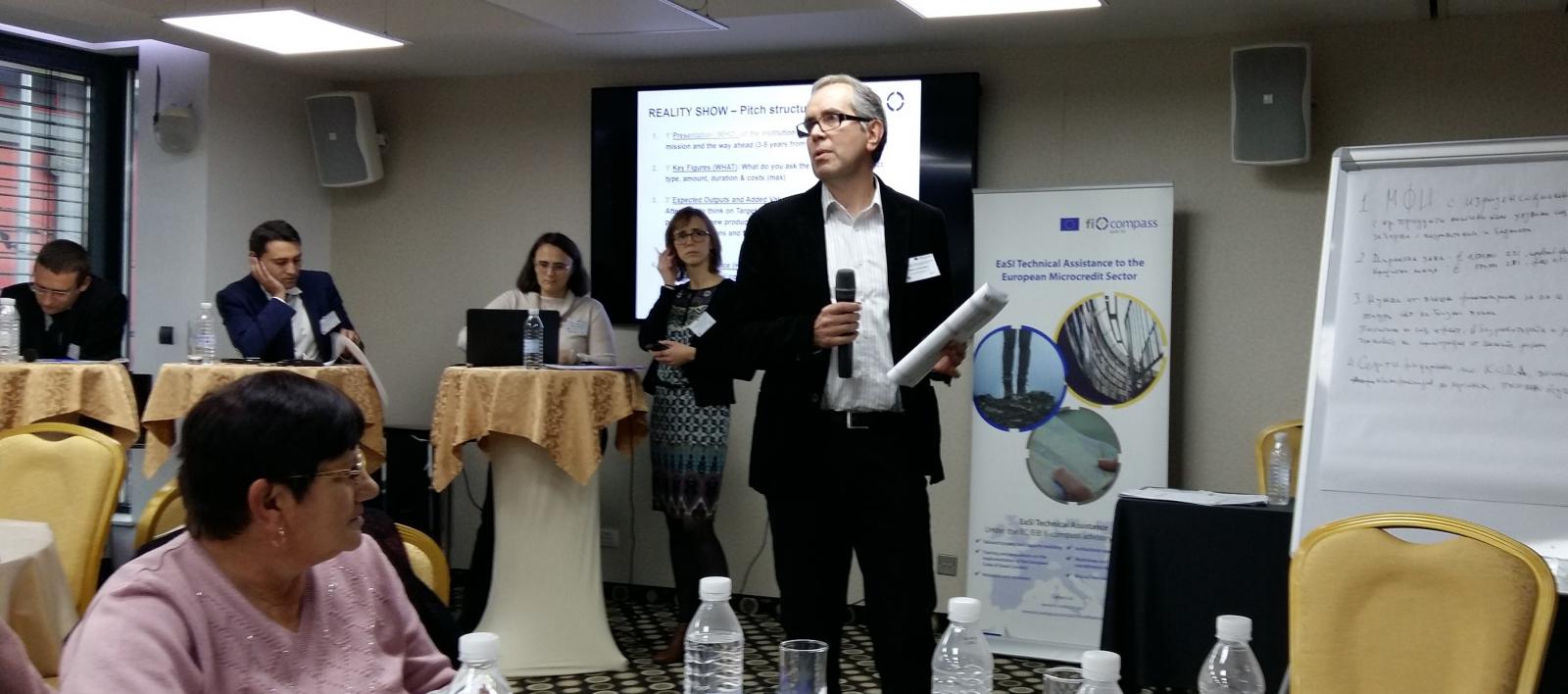 Our fi-compass support for EU microfinance stakeholders included organising a workshop in Bulgaria recently through the EU Programme for Employment and Social Innovation Technical Assistance (EaSI TA). This was the first fi-compass EaSI TA event for Bulgarian microcredit providers (MCPs) and its organisers (Bulgarian association of credit cooperatives and microfinance organisations BACCOM) welcomed more than 40 participants, most of whom were microfinance practitioners from Bulgaria.
Workshop content covered information and advice about how to seek and attract funding from private investors. This included an 'Investor's Committee' simulation exercise that involved participants testing their skills in pitching their financial proposals to potential investors. Awareness raising regarding the support that European programmes can offer to MCPs was another key feature of the fi-compass EaSI TA agenda. Here the workshop explained details about the funding and capacity building assistance available through EaSI TA and an introduction to the upcoming financial instrument under the Bulgarian European Social Fund Operational Programme. Additional information provided for the fi-compass audience showcased experiences to date of Bulgarian MCPs and the importance of the EU Code of Good Conduct for Microcredit Provision.
Delegates discussed both challenges and opportunities for Bulgarian MFIs and conclusions noted the need to adopt longer-term strategic perspectives that can be accompanied by shorter and medium term measures to boost microfinance knowhow and impacts throughout the country. Emphasis placed on the Code of Good Conduct included advice by Jorge Ramirez from the European Microfinance Network who said: "Even if you don't apply for EaSI TA or financial instruments, it is a good idea to sign up to the Code of Good Conduct or at least check how well your organisation complies with it, as it is a set of good standards for the sector, which will become increasingly important and accepted in the future."
More information about this fi-compass EaSI TA workshop sessions and outcomes can be found at the BACCOM website.