Image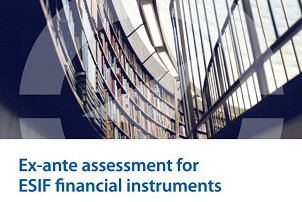 Member States and regions continue to advance with the set-up and implementation of financial instruments co-funded by the European Structural and Investment (ESI) Funds. Ex-ante assessments for these financial instruments have been completed for a wide range of different ESI Fund financial instruments and fi-compass is collating information that has been published about these ex-ante assessments in a new section on our website.
This new website section contains links to the summaries (and/or full versions) of the documents as provided by Member States. Also included in this section are links to the fi-compass manuals covering ex-ante assessment methodologies for most relevant ESI Fund thematic objectives, as well as the fi-compass video explaining 'Seven steps to effective ex-ante assessments for ESIF financial instruments'.
The section currently includes information about published ex-ante assessment summaries from: Croatia, Czech Republic, Estonia, France, Germany, Greece, Italy, Netherlands, Latvia, Lithuania, Portugal and Slovenia. We will continue to populate this new section of the website as we receive more information from the Member States about their published ex-ante summaries.