Image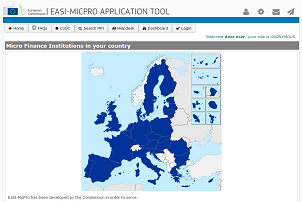 The European Commission in the frame of its Employment and Social Innovation (EaSI) Programme has launched a fully renovated Helpdesk, which will assist all institutions interested in European microfinance. The service is addressed to microfinance providers and guarantee institutions, public and private banks, local and regional authorities, networks, business incubators and research centres from EU Member States, Candidate and Potential Candidate countries, and EFTA countries.
The Helpdesk will provide tailored answers within the shortest possible time frame and on a variety of topics, including:
EaSI Financial Instruments;
EaSI Technical Assistance for European Microfinance; and
European Code of Good Conduct for Microcredit Provision.
The Helpdesk is a free service accessible at all times on the recently re-designed EaSI MicPro website (the European Commission's web platform dedicated to microfinance). Periodic webinars will complement the service, which aims to provide hands-on support strengthening the microfinance sector in Europe.
If you want to know more, submit your first enquiry here: https://webgate.ec.europa.eu/easi-micpro/application#!helpdeskPublicPage