Image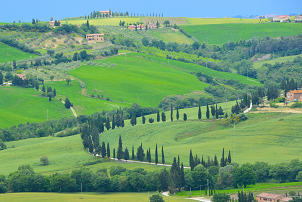 Italy is establishing an innovative 'Agricultural Multi-Regional Guarantee Platform (AMGP)' as a ground-breaking new financial instrument investing initially EUR 68 million from the European Agricultural Fund for Rural Development (EAFRD) and national co-financing resources. The European Investment Bank (EIB) Group and Cassa Depositi e Prestiti (CDP)—Italy's National Promotional Institution—are to add additional resources in the financial instrument, respectively up to EUR 315 million and EUR 150 million. The Italian National Agricultural Fund (ISMEA) may join later on with a total of EUR 20 million.
Eight regional authorities (Calabria, Campania, Friuli Venezia Giulia, Piemonte, Puglia, Toscana, Umbria, and Veneto) have already joined the AMGP after signing a framework agreement on 8 April 2017 with the EIB, the European Investment Fund (EIF) and ISMEA1.
The instrument will support new loans in the agricultural and agri-food businesses by providing a 50% guarantee to financial intermediaries on loans to SMEs and mid-caps in the sector. It applies to the Regions' rural development programme measure 4.1 (support for investment in agricultural holding) and measure 4.2 (support for investment in processing, marketing and/or development of agricultural products). The instrument is expected to increase the leverage effect of EU funds for agriculture and agro-businesses with a possible target loan portfolio of up to EUR 1 billion if all Italian regions would join the platform.
Strategic significance
EIF Chairman and EIB Vice-President, Dario Scannapieco, reinforced the importance of this new financial instrument model for Italy's rural development stakeholders noting how: "The European Investment Bank has continued to increase its investments into the Italian economy and has identified agriculture as a growth sector. With the signature of this new Platform the EIB Group is demonstrating a commitment to entrepreneurs in rural Italy."
Welcoming the AGMP's potential for bridging financial gaps in agriculture, EIF Chief Executive, Pier Luigi Gilibert, stated that: "EIF is delighted to be providing additional support for Italian rural SMEs. The appetite in Italy for a guarantee product, supported by the European Agricultural Fund for Rural Development, is strong as a result of the significant market gap in this sector. EIF is very pleased to be playing a role in meeting the increasing demand for agricultural finance."
Chairman of the CDP, Fabio Gallia, acknowledged the growth potential of AGMP and explained how: "CDP has already approved a commitment of EUR 150 million and hopes for the involvement of other Italian regions to increase the size of the initiative thus supporting a sector which is key for the development of our country, especially the South."
Find out more about Italy's new Agricultural Multi-Regional Guarantee Platform from the CDP at: http://en.cdp.it/Clients/Financial-Institutions/Instruments-To-Optimise-The-Use-Of-Capital/Agri-Platform/AGRI-Platform.kl
1https://ec.europa.eu/info/news/italy-launch-new-financial-instrument-agriculture-supported-eu-funds_en.