Image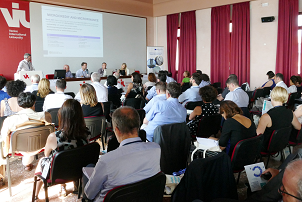 Capacity building workshops for EU microcredit providers (MCPs) were organised in June by fi-compass using the European Commission's Employment and Social Innovation Programme's Technical Assistance (EaSI TA). MCPs from across the EU and elsewhere came together in Venice for these EaSI TA workshops as part of the European Microfinance Network's 14th annual conference.
EaSI TA workshop sessions provided an opportunity for the MCPs to share their experiences with peers and to learn more about how MCPs operate in different countries and sectors. We spoke to some of the workshop participants about their roles in providing microcredit and how EaSI TA has helped their organisations.
Garrett Stokes from Microfinance Ireland was one of the EaSI TA beneficiaries in Venice who told fi-compass how he was: "delighted to participate in this training workshop which will help us to better understand what might drive our existing and prospective clients. This event and the overall EMN conference give us an important opportunity to meet with other microfinance providers across Europe and exchange experiences and new ideas and concepts."
"Microfinance Ireland Limited, is a not-for-profit lender and provides small business loans, between EUR 2 000 and EUR 25 000, through the Irish government's Microenterprise Loan Fund. The purpose of the fund is to help start-ups and existing businesses to get on their feet and expand and create jobs across Ireland. Our clients are usually those who have difficulty accessing loans from traditional lenders. To date, we have approved EUR 19 million to over 1 300 businesses across Ireland helping create over 3 000 jobs."
"We received EaSI TA coaching when preparing our inputs for the European Code of Good Conduct for Microcredit Provision.  We reviewed all aspects of our business to ensure our compliance with the good practice guidelines. As a result, we successfully passed the external Code evaluation and received the Certificate of Compliance. This is a pre-condition to have access to the EU's funding programmes. The review was a very comprehensive examination of all aspects of the business and as a small microfinance business we are very proud of this achievement."
Crinuta Sandu of RoCredit was another satisfied customer of EaSI TA, and from her Romanian point of view she said that: "EaSI Technical Assistance has been so useful for us because we underwent the rating, capacity building and Code training, which were all necessary for improving our activity. The rating process gave us guidelines for improvement and thus made our plans for sustainable growth more achievable. It provides a valuable benchmark for our current and future funders."
"RoCredit is a non-banking financial institution with its shareholding structure private and Romanian. We have 15 branches and agencies, through which small-scale entrepreneurs, with low possibilities to access financial sources, are served. For them we offer crediting products, consultancy, and through our subsidiaries leasing and insurance."
"The training [provided by EaSI TA] is a must for small financial institutions such as RoCredit. The international experience of the expert trainers showed us certain relevant aspects of our day-to-day activity that could be improved. All these have been useful and successfully implemented within RoCredit through procedural modifications and changes in risk management, human resource relations, and client relationship."
Marcel Abbad of Fundación Oportunitas described his involvement with EaSI TA in Spain's microfinance market saying: "Our institution is a Greenfield microfinance institution based in Barcelona that was established in 2016 with the aim of promoting social and labour inclusion through access to loans and training. We want to encourage self-employment and entrepreneurship, especially among people who are in insecure jobs or at risk of social or financial exclusion."
"We started to work with EaSI TA during the implementation of the European Code of Good Conduct. This provided us with good practice guidelines for investor and client relations, governance, risk management, and reporting standards. We'll also be able to use this for our newly set-up finance company."
"We were very proud to be selected for EaSI TA support, and this will provide us with access to the institutional assessment and the tailored trainings. As we are a small institution, we prefer to wait for the results of the assessment and then determine in which areas we want to implement our tailored trainings."
Further positive feedback from EaSI TA beneficiaries came from Filippo Chiesa of Italian MCP PerMicro, who values the fi-compass advisory service for MCPs saying: "Since the launch of EaSI TA, we have been actively involved in all activities of the EaSI TA. This ranges from the capacity building programme, Code TA and Certification, as well as various events sharing our experience."
"Our operations at PerMicro started ten years ago in Turin, Italy. We evolved into a stand-alone non-bank financial institution supervised by the Central Bank. We received the support of a number of national and international investors for our institutional development. Our 12 branches and two satellite offices cater to more than 8 000 clients across Italy. We offer two types of loans specifically tailored to micro and small entrepreneurs and individuals. Both have the possibility to include the option of loan insurance. We rely on a strategic partnership with PerMicroLab, which supports our institution in providing micro-entrepreneurs with free-of-charge non-financial services, such as the drafting of business plans and consulting for business development."
"Our field staff appreciated the [EaSI TA] capacity building. It's been very useful. We really like the flexible approach of fi-compass, the way it fits our needs. The training addressed the requirements of PerMicro in Branch and Human Resource management, Credit management, and Communication and Marketing. We've incorporated all of the trainings' take-aways into our daily routine."
See the website of the European Microfinance Network's 14th annual conference for more information about the EaSI TA workshops from fi-compass in Venice.