'FI Campus' 2017: all you need to know about using financial instruments under ESIF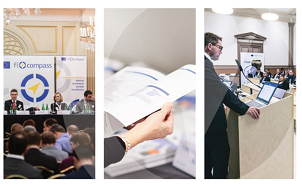 FI Campus is a major three-day event from fi-compass that will be held in Brussels from Wednesday, 29 November until Friday, 1 December 2017. Its focus is on financial instruments under the European Structural and Investment Funds (ESIF) in the 2014-2020 programming period, and the event is aimed especially at ESIF managing authorities, financial intermediaries, regions, cities and their stakeholders.
The theme of FI Campus is 'Financial instruments, powered by you', which reflects the valuable experience from the growing community of practitioners who have set up and are now operating ESIF financial instruments. These include loans, guarantees, and equity support for investments in a diverse range of sectors such as small and medium‑sized enterprises (SMEs), energy efficiency, urban development, and research & development.
With over 30 FI Campus sessions on offer during the three-day event, participants will be able to tailor their individual programme to meet their own specific needs. Sessions on European Commission (EC) Regulatory Guidance, ranging from State aid to managing, monitoring and audit will be given by EC experts. Participants will also be able to hear case studies related to different thematic objectives and sectors, presented by practitioners from a variety of Member States and regions as well as by experts from the European Investment Bank. In addition, the event will also feature examples of the recent progress made to establish financial instruments that support the objectives of the European Social Fund (ESF). Other stimulating features of FI Campus include roundtables on EC Regulatory Guidance, thematic forums, and various interactive workshops.
Stefan Appel, Head of the EC's Financial Instruments and International Financial Institutions Relations Unit at DG Regional and Urban Policy said: "fi-compass has been providing support in different forms, times and places. We wanted to offer an opportunity to our stakeholders to benefit from the accumulated fi-compass support in a condensed and efficient way while offering flexibility to participants to tailor the event to their individual needs. That is why FI Campus was designed in this form. FI Campus will provide a very useful collection of different information sessions as well as interactive learning opportunities. The sessions are designed for people with existing experience of working with ESIF financial instruments and those who are relatively new to using ESIF for co-financing loans, guarantees, or equity investments. Our FI Campus event builds on the advisory content developed by fi-compass and we plan to attract over 300 experts and practitioners. We will all be working closely together over three days to gain greater practical understanding about the effective use of ESIF financial instruments."
FI Campus will also foster interaction at an individual level between participants, both with experts and speakers and also on a peer-to-peer basis. The sessions will ensure that for three days FI Campus becomes a hub for the exchange of ideas and experience between participants, tapping into the expertise of practitioners and putting into practice the event's theme, 'Financial instruments, powered by you'.
Online registrations are now open here and will close on Wednesday, 15 November 2017.