Image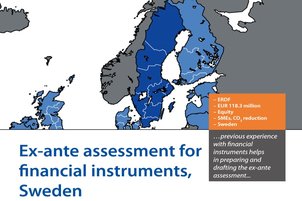 The latest European Regional Development Fund (ERDF) case study from fi-compass describes the process involved with preparing an ex-ante assessment in Sweden for the use of venture capital financial instruments in the 2014-2020 programming period.
Private venture capital investments decreased in Sweden following the 2008-2009 economic crisis and this had a negative impact on small and medium-sized enterprises (SMEs) in the early stages of growth. Sweden's ERDF managing authority, Tillvaxverket, was aware that financial instruments supported by the ERDF could help fill this financing gap.
Eva Rosenthal from Tillvaxverket explains that, "We had just started using the ERDF money for venture capital in Sweden and that process was going really well. We had eight regional funds that had started in 2009 in the recession and they had done a good job. We could see that it was something that we could keep on using."
In order to help better understand how to develop suitable venture capital financial instruments and in compliance with Article 37(2) of the common provisions regulation, Tillvaxverket carried out an ex-ante assessment. This included interviews with more than 130 representatives of private investors, businesses, incubators, public administration and other organisations involved, or with an interest in financial instruments. The ex-ante assessment process took 11 months and it identified a number of market failures related to SME access to venture capital that hindered SMEs from commercialising innovations. Cleantech companies, in particular, were finding it hard to obtain financing.
New financial instruments
Outcomes from the ex-ante assessment proposed an investment strategy with eight regional co-investment funds, one national Fund of funds, and one national co-investment fund for CO2 reduction (the 'green fund'). The regional financial instruments are expected to invest relatively smaller amounts in a large number of companies, while the national fund will make larger investments.
Looking back on the preparatory work involved with these 2014-2020 ERDF financial instruments Ms Rosenthal recalls that, "It took a long time, but it has been very useful to have this assessment. We have used it a lot in the negotiations with the intermediaries who are going to make these investments. We plan to do something like this again for the 2021-2027 period".
Download and share this ERDF case study from the fi-compass website's publication library.