Image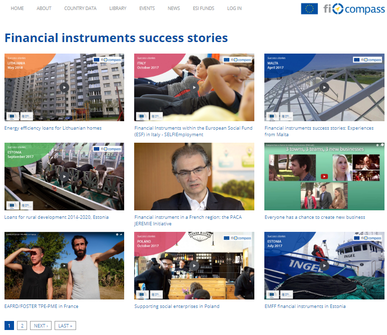 The fi-compass website showcases an increasing library of video case studies and interviews highlighting multiple ways that managing authorities have implemented financial instruments, offering insightful advice from the practitioners.
These success stories feature all ESI Funds and multiple Member States, including different objectives, implementation options and financial products. Examples from loan funds highlight support for fishing communities, energy efficiency, young farmers, social enterprises, SMEs and self-employment, and an equity fund for start-ups.
Recent videos include the case study and standalone interviews from Northern Ireland, where funds supporting small companies for rapid growth are building a venture capital ecosystem. Maeve Hamilton of the managing authority notes in relation to financial instruments that "once you have them established, they are simple to manage both from a managing authority and an audit perspective".
Nadia Pellefigue, Vice-President in the managing authority of the Occitanie region, France also highlights the need for simplicity in on-going management, and how this is possible through their financial instrument FOSTER. She says "We have a simple tool, over which we exercise control, with transparency". Loans, guarantees and equity under the FOSTER Fund of funds should provide EUR1 billion in finance for 6 000 companies in the region.
The FI Campus 2018 post event videos, which have recently been published, highlight a number of successful financial instruments that were featured during the event. Cecília Gyalog, Director, EU Coordination at the MFB Hungarian Development Bank reflects some of the benefits of financial instruments saying, "financial instruments by definition give incentives for better quality projects and, more committed project owners".
Interviews with practitioners complement fi-compass 'Learning videos' that provide short overviews of fundamental elements of financial instruments and 'Events' videos, which highlight participant views of the benefits and insights they have gained from events.
The 'What They Say' section provides further examples of interviews with managing authorities, implementing bodies, fund managers, financial intermediaries and, most importantly, final recipients who all bring additional insights into the advantages of financial instruments.
Together the videos show the many diverse ways that financial instruments can support immediate operational programme objectives and even go beyond these by building individual and institutional capacity for practitioners.
For more information please visit the fi-compass website and follow us on our social media accounts at LinkedIn and Twitter.