Image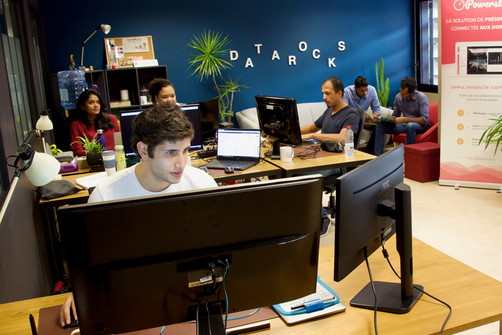 The ESSOR PME financial instrument featured at FI Campus 2019, has helped support the innovative local business, Datarocks.
Set up in 2014 in Sainte Marie, La Réunion, Datarocks develops and sells innovative IT solutions to help businesses transpose their raw data into interactive ergonomic dashboards. Thanks to a EUR 451 000 equity investment from the ESIF financial instrument, ESSOR PME La Réunion, the company has been able to grow and attract international customers such as Nokia or Thales.
"Data is the new oil," says Ludovic Narayanin, CEO of Datarocks while he adds: "but getting insight from data is still complicated especially for non-technical users. This is how I got the idea to set up this business with my partner Laurent Herrmann." In their previous life, as business intelligence consultants, the 'two data lovers' were modelling databases and building dashboards for business users from legacy tools. "Given those tools were neither user-friendly nor efficient, we identified a niche that would allow business users to create powerful dashboards in a simple and interactive way," remember the two founders.
In October 2019, the company launched Powerslide, a SaaS (Software as a Service) product that combines both interactive analysis and presentation of data. "We noticed that in many if not all companies, data is extracted and used to create Excel files and graphics which are then copy-pasted into PowerPoint for presentation. All these steps are manual and time consuming. We came up with the idea to mix our dashboard technology with a stylish presentation tool in order to propose a smooth (with a simple drag and drop) solution for this recurrent use case."
Datarocks' founders admit that it was not an easy decision to leave a safe and well-paid job to start a business, especially in a French overseas department where the unemployment rate is much higher than the national average. "Launching a start-up from La Réunion is a real challenge, because we are far from a mature start up ecosystem and local businesses are less open to innovation. However, if you have a good product and enough resilience, you can be successful. You really need to find the good ratio between speed and wisdom and build long term relationships," says Laurent.
The business benefitted from the investment and support of APICAP, the fund manager of ESSOR PME La Réunion, the ESIF equity financial instrument established by Financière Région Réunion (FRR), a fund of funds set up by the La Réunion ESIF managing authority.
"We met APICAP at different events in La Réunion and also at Station F, the world's largest business incubator facility for start-ups in Paris. We also heard about ESSOR PME La Réunion, the ESIF financial instrument managed by APICAP in La Réunion, in the press. They have shown trust in the growth of our company and we believe that they will follow us in the next stage. They have also tried to help us through their network, giving us the opportunity to meet interesting people. Their funds have financed the growth of our team from four employees to eight and increased marketing, two business development sectors that traditional financial actors do not really cover."
FRR is managed by the European Investment Fund (EIF). Commenting on the investment in Datarocks, the EIF said, "The EIF was able to set up a co-investment facility with APICAP thanks to a fruitful collaboration with Région Réunion. Through this instrument, we were able to invest in Datarocks and help this innovative start-up on its growth trajectory. This investment demonstrates once again the added value of EIF interventions under EU cohesion policy, which fosters competitiveness and innovation across the Reunionese economy."
Zaynah Amourani, Director of ESSOR PME concludes, "In the next four years, we plan to invest around EUR 25 million in order to support the local economy. Datarocks was one of the first companies financed by the ESSOR PME La Réunion Fund. In just 5 years, it has made the tech sector Réunion shine on the national territory as well as on the international one soon opening the path of success to other local companies."