Image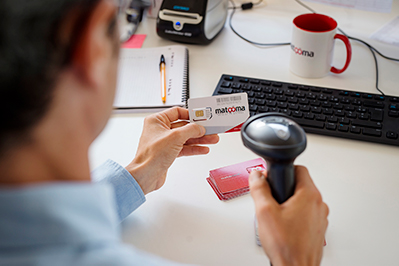 Frédéric Salles, a 43-year-old Montpellier entrepreneur, is at the head of Matooma, a M2M service company that provides multi-operator SIM cards connectivity solutions and managed services. Backed by an equity investment from the ERDF financial instrument, SAS JEREMIE Languedoc-Roussillon (LR) and its fund manager Soridec, it ranks today among the fastest growing companies in the field of SIM card connectivity.
"I never regretted my decision to start my business in Montpellier. Entrepreneurs who have a good idea need to find an incubator to support them and communicate around their product. When you have 'know-how', you need to let people know about it," says Frédéric.
Founded in 2012 with Nadège, his wife, and his partner, John William Aldon, and sold to the Wireless Logic group in July 2019, Matooma, meaning 'machine to machine' (M2M) offers its customers 'M2M multi-operator SIM cards' that support wireless data communication between machines. The cards automatically capture any local telecom networks, selecting the best one, thereby ensuring a continuity of service. The MatooCard range covers 180 countries and 540 operators. "This aspect is essential in specific areas such as home care for the elderly. When an old person presses the button of their pendant alarm, the alert must go. We cannot afford to say that there was no network at that time," explains Frédéric Salles.
With more than 550 000 activated SIM cards and more than 2 500 customers, Matooma users are very diverse; they can be either medium size companies, start-ups, municipalities or multinational corporations. "Our SIM cards equip Nicollin waste collection vehicles. They ensure trucks tracking and provide the municipality with a precise tracking of their garbage collection," explains Frédéric.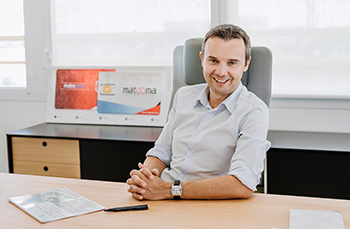 Frédéric Salles, CEO of Matooma, Copyright © Matooma
If Frédéric can be proud today of his career, things have not always been that easy. He spent many years in a French company that did not see the potential of the project. Then, after many months of unemployment, he finally decided to create Matooma. "When I started my business, we ran into a lot of financing difficulties. We made a PowerPoint presentation that we showed to my personal banker who told me after two months that he was not interested in joining us." The partners eventually launched the company with financing through Réseau Entreprendre and Société Générale loans, personal loans and support from their families.
A key factor in the growth of the company was the equity investment in 2013 by the ERDF financial instrument SAS JEREMIE LR. This financial instrument, which was set up by the European Investment Fund (EIF), the Holding Fund Manager acting on behalf of the Region Occitanie, featured in a fi-compass case study that was published in 2015.
Bertrand Religieux, board member of the fund manager IRDI Soridec, remembers very well the first time he met the company. "We met Matooma founders in 2013 at the early beginning of the company. We were quickly convinced that the product market fit was very good, as the CEO knew all about the Internet of Things (IoT). We decided to lead the first financing round and then invested EUR 650 000 of our funds (Soridec and SAS JEREMIE LR) on a EUR 1 million equity round". At the time, the company had around 10 employees. Today, the company employs about 50 people and has increased its turnover by a factor of ten. "We were proud to fuel this outstanding project and team and help them in their winning strategy to establish Matooma as a European leader in their market," adds Religieux.
This summer, Wireless Logic, a UK based company bought Matooma. For Salles, the rationale for the sale was clear: "At that time, we were two multi-operator players willing to become a leader in Europe, Matooma with more than 550 000 SIM cards and Wireless Logic with more than 3.5 million cards". In addition to creating a powerful new European company, the acquisition provided an opportunity for the equity investors to exit the company delivering a significant return to SAS JEREMIE LR, which can now be reinvested in new enterprises.
In the meantime, following the recent sale, the growth of the company continues to support employment in Montpellier. "We carry on working on our projects while providing regular financial reporting to Wireless Logic. The takeover by Wireless Logic was a no-brainer at industrial level, we do the same job and we were sometimes competing with each other. That being said, Matooma is better established in France, so we agreed to keep the jobs in Montpellier," comments Frédéric. Looking ahead, Matooma is now a leader in the goods and people security sector in France, occupying more than 90% of the telecare market and 50% of the home security market. The company continues to grow and positions itself as the preferred partner for manufacturers, installers and integrators of connected solutions, such as Securitas, Legrand or Europ Assistance. After its successful launch in Spain, Matooma has recently expanded its activity to three further European countries with high growth potential, Luxembourg, Belgium and Switzerland.
Commenting on the success of Matooma, the EIF said, "the success of Matooma illustrates the power of equity financial instruments to support high growth businesses in the EU. The sale of the company will allow the business to continue to grow and develop and at the same time, has resulted in a significant return on the investment by SAS JEREMIE LR. These resources can now be reinvested to support new enterprises in the region, highlighting how the revolving nature of ESIF financial instruments delivers real added value to managing authorities."