Image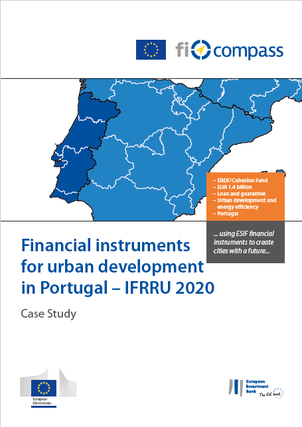 The IFRRU 2020 ESIF financial instrument for urban development and energy efficiency features in the latest fi-compass case study. Published on the website in November 2019, the case study describes how the fund of funds has been created with a small specialist management team to implement financial instruments on behalf of eight Portuguese managing authorities.
Using EUR 64 million European Regional Development Fund (ERDF) and EUR 38 million Cohesion Fund (CF) resources, IFRRU 2020 has successfully attracted significant additional public and private financing to create a fund of EUR 1.4 billion, achieving a multiplier effect of fourteen. Once combined with the resources of the individual project promoters, the fund of funds is expected to mobilise EUR 2 billion of financing in support of energy efficiency and urban development projects.
The case study describes the steps that were taken to implement the financial instruments and the design and governance arrangements of the fund. It includes a description of the innovative three-stage application process under which applicants must obtain the approval of both the local municipality and the energy agency before the loan agreement can be signed. As a result, IFRRU 2020 ensures that the projects it supports are both aligned with local urban development plans and delivering the required improvements in energy efficiency.
Another key feature of the IFRRU 2020 model is the role of the three banks that act as financial intermediaries for the loan products.
The case study describes how the competition between the different banks has been key to ensuring value for money is achieved and the most competitive rates offered to IFRRU 2020 final recipients. The case study was presented at the FI Campus 2019 event at which it was announced that the amount of investment committed by the fund of funds had exceeded EUR 500 million. With over 400 applications for financing currently in the pipeline, it seems likely that the fund of fund's investment targets will be met during the current programming period.
For further information, the IFRRU 2020 case study can be found here.