Seminar for the EAFRD managing authority in Andalusia, Seville, 23 October 2017
Overview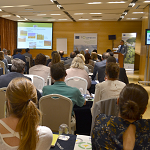 Picture: Event overview
The 'Targeted coaching workshop for the EAFRD managing authority in Andalusia' was organised on 23 October 2017 in Seville, Spain as part of the fi-compass targeted coaching on financial instruments for managing authorities under the European Agricultural Fund for Rural Development (EAFRD).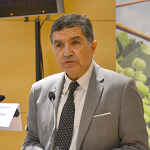 Picture: Gaspar Llanes Díaz-Salazar, EAFRD managing authority, Junta de Andalucía, Spain
The full-day workshop was attended by representatives from the EAFRD managing authority, paying the agency, certification body and the regional Ministry for Agriculture in Andalusia as well as other stakeholders involved in the Andalusia Rural Development Programme (RDP) in 2014-2020. During the workshop, participants had an opportunity to delve into the technicalities of EAFRD financial instruments in the current programming period. To facilitate an effective exchange with the audience, expert presentations were followed by a question and answer rounds moderated by Bruno Robino, Head of fi-compass Unit, Advisory Services, European Investment Bank (EIB).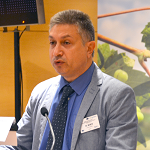 Picture: Nivelin Noev, DG AGRI, European Commission
The workshop was officially opened by Gaspar Llanes Díaz-Salazar, Secretary General of Economy, EAFRD Managing Authority, Junta de Andalucía, who presented the policy relevance and importance of financial instruments for the regional development and for boosting research and innovation in the local economy. Nivelin Noev, DG Agriculture and Rural Development (DG AGRI), European Commission, shared with participants the current status in relation to financial instruments for agriculture and the rural development policy orientations for 2014-2020. Stefan Mathesius, Head of Financial Instruments Unit, Agencia de Innovación y Desarrollo de Andalucía (IDEA), explained to the audience the recent experience and lessons learnt from the JEREMIE initiative in Andalucía.
Further workshop presentations addressed the main building blocks of the ex-ante assessment process (Eugenio Saba, EIB) and the concrete experience from the ex-ante assessment process carried out recently in Andalusia (Ricardo Pedraz, Analistas Financieros Internacionales).
Experts from DG AGRI and the EIB presented also the possibilities for a combination between grants and financial instruments, payment cycle, assurance and audit trails for financial instruments under the EAFRD.
An important part of the workshop were practical insights into EAFRD case studies from the programming period 2014-2020 such as the guarantee financial instruments in the Occitanie Region, France, Agricultural Multi-Regional Guarantee Platform for Italian farmers and the Estonian Loan Fund.
| | Title | Speakers | |
| --- | --- | --- | --- |
| | Financial instruments for agriculture under the EAFRD in the 2014-2020 programming period – Current status and political guidelines | Nivelin Noev, DG AGRI, European Commission | |
| | Management of financial instruments in Andalucía: Previous experience, JEREMIE initiative | Stefan Mathesius, Head of Financial Instruments Unit, Agencia de Innovación y Desarrollo de Andalucía (IDEA) | |
| | Ex-ante assessment process of financial instruments | Eugenio Saba, European Investment Bank | |
| | Ex-ante assessment for EAFRD financial instruments in Andalucía | Ricardo Pedraz, Analistas Financieros Internacionales S.A. | |
| | Loans and guarantees; Combining financial instruments with grants | Szilvia Bencze, DG AGRI, European Commission | |
| | Implementing options and selection of financial intermediaries | Eugenio Saba, European Investment Bank | |
| | Assurance and auditing of EAFRD financial instruments | Gregorio Dávila Díaz, DG AGRI, European Commission | |
| | Examples of EAFRD financial instruments: Occitanie (France) and Italy | Bruno Robino, European Investment Bank | |
| | Examples of EAFRD financial instruments: Estonia | Eugenio Saba, European Investment Bank | |