Financial Instruments delivering ESI Funds, Nicosia, 14 April 2016
Overview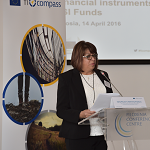 Picture: Georgia Christofidou, Directorate General for European Programmes, Coordination and Development, Cyprus
Financial instruments delivering ESI Funds were discussed at a fi-compass seminar on 14 April 2016 in Nicosia, Cyprus. The seminar in Nicosia concluded this fi-compass series of advisory national seminars that have been taking place in almost all EU Member States since autumn 2015.
Approximately 70 people attended the seminar in Nicosia, including representatives from managing authorities, regional or national authorities, intermediate bodies, certifying and audit authorities, financial intermediaries, as well as consultants.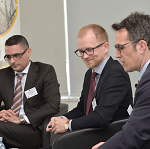 Picture: Andreas Kythreotis, Bank of Cyprus, Cyprus; Martin Polónyi, Ministry of Finance, Slovakia; Pietro Celotti, fi-compass expert
Georgia Christofidou, Directorate General for European Programmes, Coordination and Development, Cyprus, gave the opening speech. She presented the use so far and the state of play of financial instruments in Cyprus in 2014-2020. She also highlighted that financial instruments could offer opportunities for a better quality of life for EU citizens. Andreas Kythreotis, Bank of Cyprus, presented experience with the use of financial instruments in Cyprus in support of SMEs. More than 600 companies have been supported with loans under the JEREMIE initiative between 2010 and 2015, especially in the tourism and retail sales sectors. Martin Polónyi, Ministry of Finance in Slovakia, presented the process of elaboration of the ex-ante assessment for financial instruments in Slovakia in which close cooperation with the EIB was established. He emphasised that a well-prepared ex-ante assessment is necessary for the implementation of financial instruments, while the involvement of all relevant stakeholders is key in the process.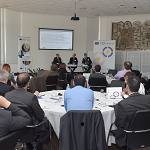 Picture: Event Overview
These case study presentations were followed by a presentation from the European Commission's Directorate-General for Regional and Urban Policy. This covered the latest official guidance concerning ESIF financial instruments, ESIF and European Fund for Strategic Investments complementarities and the new off-the-shelf instruments.
Pieter Coppens from the European Investment Bank explained fi-compass advisory support and presented the features of the fi-compass website.
Two parallel workshops included hands-on exercises following the life cycle of financial instruments giving particular emphasis to the design phase. Participants discussed their own experience when implementing financial instruments. There were many questions and active participation of attendees in the discussions.
The seminar was well attended and its success demonstrated that there is significant interest in financial instruments in Cyprus. Delegates' discussions underlined the importance to invest in the high quality of the ex-ante assessment before implementing financial instruments. The seminar offered great networking opportunities among the delegates as well as valuable learning opportunities.
| | Title | Speakers | |
| --- | --- | --- | --- |
| | JEREMIE experience in supporting SMEs in Cyprus | Andreas Kythreotis, Bank of Cyprus, Cyprus | |
| | The ex-ante assessment for financial instruments in Slovakia | Martin Polónyi, Ministry of Finance, Slovakia | |
| | Opportunities offered by the 2014-20 framework | Georges Kolivas, European Commission (DG REGIO) | |
| | fi-compass advisory support | Pieter Coppens, European Investment Bank | |