Financial Instruments delivering ESI Funds, Berlin, 25 February 2016
Overview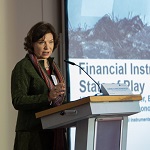 Picture: Ulrike Schreckenberger, Ministry for Economic Affairs and Energy, Germany
Financial instruments delivering ESI Funds were discussed at a seminar on 25 February in Berlin, Germany. The seminar was part of the series of national seminars that have been taking place in almost all EU Member States since autumn 2015.
More than 70 delegates attended the seminar in Berlin, including representatives from managing authorities, regional or national authorities, audit authorities, financial intermediaries and consultants from around Germany and other European countries.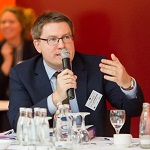 Picture: Dr Joerg Lackenbauer, European Commission (DG REGIO)
The opening speech of the seminar was delivered by Ulrike Schreckenberger, European Union Structural Funds Unit of the German Federal Ministry of Economic Affairs and Energy, who welcomed participants and opened the floor for a fruitful event. Ulrike Schreckenberger presented the state of play of financial instruments in Germany, highlighting their wide use in SME support. She emphasised that in 2014-2020 the ERDF financial instruments allocation is expected to be double the amount in 2007-2013. Irene Schucht presented the long history the Investitionsbank Berlin has with loan or venture capital instruments especially in supporting SMEs. Dr Dietrich Englert, from the German ESF managing authority, the German Ministry of Labour and Social Affairs, highlighted financial instruments provided through microcredit funds. Thereafter, Emily Smith, European Investment Bank, spoke about experiences of the London Green Fund (UK) and underlined the importance of selecting the appropriate governance structure.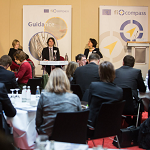 Picture: Emily Smith, European Investment Bank; Dr Dietrich Englert, Federal Ministry of Social Affairs and Labour, Germany; Irene Schucht, Investitionsbank Berlin, Germany
Following the case study presentations, the European Commission's Directorate-General for Regional and Urban Policy presented the key novelties and official guidance concerning ESIF financial instruments and the opportunities offered by the 2014-2020 framework. The European Investment Bank's presentation on fi-compass advisory support complemented this session by demonstrating the opportunities provided by the fi-compass website.
Two parallel workshops concluded the seminar in Berlin. These workshops included hands-on exercises following the life cycle of financial instruments with particular emphasis on the design phase. The participants engaged actively in the workshops and discussed their own practical experiences with implementing financial instruments.
The delegates' active discussions demonstrated the advanced experience of the audience in all the steps of the lifecycle of financial instruments. The seminar offered great networking opportunities as well as valuable learning for the delegates.
Title
Speakers

Financial instruments in Germany – State of play

Ulrike Schreckenberger, Ministry for Economic Affairs and Energy, Germany

Financial instruments in the ERDF 2014-2020 Programme – Experience from Berlin

Irene Schucht, Investitionsbank Berlin, Germany

Microcredit Fund in the framework of ESF – Implementation experience and lessons learnt

Dr Dietrich Englert, Federal Ministry of Social Affairs and Labour, Germany

Financial instruments for Energy Efficiency – experience from other Member States

Emily Smith, European Investment Bank

Opportunities offered by the 2014-20 framework
 

Dr Joerg Lackenbauer and Thomas de Béthune, European Commission (DG REGIO)

fi-compass advisory support
 

Anna Zurek, European Investment Bank

EC Guidance
 

Dr Joerg Lackenbauer and Thomas de Béthune, European Commission (DG REGIO)