Financial Instruments delivering ESI Funds, London, 18 February 2016
Overview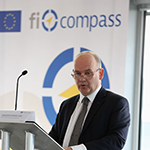 Picture: Roger Evans, Deputy Mayor of London
Financial instruments delivering ESI Funds were discussed at a seminar on 18 February in London, United Kingdom (UK). The seminar was part of the national seminars that have been taking place in almost all EU Member States since autumn 2015.
Approximately 100 people attended the seminar in London, including representatives from managing authorities, audit authorities, financial intermediaries and consultants from the UK and other European countries.
Picture: Charles Hamilton, Head of EU Programmes, Invest Northern Ireland; Grant Peggie, Director, British Business Bank; Cameron Cook, Amber Fund Management Limited, Scotland; David Read, Department of Communities and Local Government, United Kingdom
Roger Evans, the Deputy Mayor of London, gave the opening speech. He talked about the opportunity to learn from projects involving financial instruments in the UK as well as in other EU member states and opened the floor for a fruitful event. Following the opening speech, four case study presentations covered the implementation of financial instruments in the UK. More specifically England's JEREMIE experience in 2007-2013, as well as the progress in the setup and design of financial instruments in 2014-2020, was presented from the managing authority perspective, while the JESSICA experience was given from the fund managers' point of view. Participants had the opportunity to learn more about SME support through financial instruments in the UK, as well as the ex-ante assessment process and the experience of financial instruments in Northern Ireland, Scotland.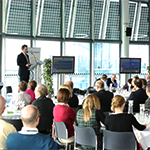 Picture: Event participants
The European Commission's Directorate-General for Regional and Urban Policy presented the key novelties and official guidance concerning ESIF financial instruments and the opportunities offered by the 2014-2020 framework. During this session, the opportunities for implementing financial instruments under the EMFF were also presented by the Directorate-General for Maritime Affairs and Fisheries. This was complemented by a presentation from the European Investment Bank about fi-compass advisory support.
Title
Speakers

Overview of financial instruments in the UK 2007-13 and 2014-2020

David Read, Department of Communities and Local Government, United Kingdom

Scottish Partnership for Regeneration in Urban Centres (SPRUCE)

Cameron Cook, Amber Fund Management Limited, Scotland

Northern Powerhouse Investment Fund

Grant Peggie, Director, British Business Bank

Financial Instruments for SMEs

Charles Hamilton, Head of EU Programmes, Invest Northern Ireland

Opportunities offered by the 2014-20 framework

Ieva Zālīte, European Commission (DG REGIO)
Miguel Peña Castellot, European Commission (DG MARE)

fi-compass advisory support

Emily Smith, European Investment Bank

EC Guidance

Hanna Dudka and Ieva Zālīte, European Commission (DG REGIO)