Financial Instruments delivering ESI Funds, Paris, 22 March 2016
Overview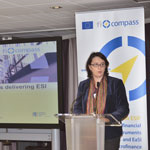 Picture: Florence Clermont-Brouillet, Department of European Affairs, CGET, France
Financial instruments delivering ESI Funds were discussed at a seminar in Paris on 22 March 2016. This event was part of the series of national seminars that have been taking place in almost all EU Member States since autumn 2015.
Representatives from managing authorities, national or regional authorities, audit authorities, as well as private stakeholders, attended the seminar in Paris, which hosted more than 70 delegates.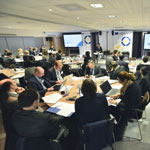 Picture: Event participants
Florence Clermont-Brouillet, from the Department of European Affairs (French National Authorities), welcomed the participants and opened the seminar. Cristina Wallez Cuevas, also from the Department of European Affairs (French National Authorities) gave the state of play presentation on financial instruments in France. It was highlighted that financial instruments are planned for 27 programmes under eight thematic objectives and three ESI Funds for the 2014-2020 programming period. Aubin Bonnet, from the European Investment Fund, presented the JEREMIE experience in the Languedoc-Roussillon region, where loans, guarantee and equity instruments have been used to support innovative SMEs. Joanna Wardzińska, from TISE, presented the Polish experience with the social economy under the European Social Fund, where loans for social economy entities have been provided. To conclude the session on case studies, Virginie Dubart, representing the French region Hauts-de-France, and Guillaume Thomé, from Finorpa, presented the first example of the combination of ESIF and European Fund for Strategic Investments support in the European Union, which is taking place in Hauts-de-France.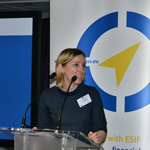 Picture: Oana-Andrea Dordain, DG REGIO, European Commission
The session on case studies was followed by a presentation from the European Commission's Directorate-General for Regional and Urban Policy. This presentation focused on the opportunities offered by the 2014-2020 framework as well as the latest official guidance concerning ESIF financial instruments and the new off-the-shelf instruments. Alain Kauffmann, from the European Investment Bank, introduced the fi-compass advisory support and showed the features of the fi-compass website. The seminar in Paris concluded with two parallel workshops. The workshops included hands-on exercises following the life cycle of financial instruments and placed particular emphasis on the design phase. During these sessions, the participants had the opportunity to learn from each other through discussing their own practical experience with implementing financial instruments. The fruitful discussions revealed the significant amount of experience the stakeholders have with financial instruments. The success of the seminar in Paris demonstrated the strong interest in financial instruments in France.
Title
Speakers

Financial instruments in France - State of Play

Cristina Wallez Cuevas, Department of European Affairs, CGET, France

The JEREMIE experience in Languedoc-Roussillon

Aubin Bonnet, European Investment Fund

ESF Loan Fund for social economy

Joanna Wardzińska, TISE S.A., Poland

Combination of ESIF and EFSI support - the example of Region Nord Pas de Calais - Picardie

Virginie Dubart, Region Nord Pas de Calais - Picardie, France

Guillaume Thomé, Finorpa, France

Opportunities offered by the 2014-20 framework

Oana-Andrea Dordain and Thomas de Béthune European Commission (DG REGIO)

fi-compass advisory support

Alain Kauffmann, European Investment Bank

EC Guidance

Oana-Andrea Dordain and Thomas de Béthune European Commission (DG REGIO)