Image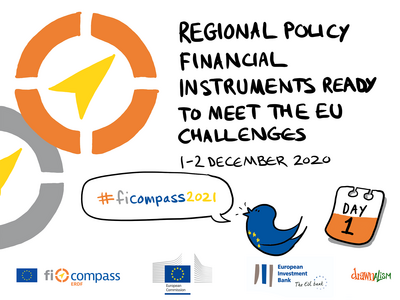 When: 1-2 December
Where: digital event
fi-compass host an online ERDF conference entitled, 'Financial instruments under European Regional Development and Cohesion Funds' to be held on Tuesday 1 December – Wednesday 2 December 2020.
The conference offered a comprehensive programme for practitioners working or planning to work with financial instruments under the European Regional Development Fund (ERDF) and Cohesion Fund (CF) 2021-2027 operational programmes. The event featured information sessions and interactive formats covering:
The Cohesion policy framework and its role in the EU Recovery Plan including the Next Generation EU package and Just Transition Mechanism;
EC Regulatory Guidance and horizontal topics related to ERDF/CF financial instruments, such as combination with grants and InvestEU; and
Sector specific sessions looking ahead to implementation of financial instruments in the 2021-2027 programming period.
The event had been structured in a modular format to allow participants to join the sessions that reflect their specific interests. The 'plenary' session on day one considers several key horizontal topics relating to the implementation of financial instruments in the 2021-2027 programming period. On day two, we presented a horizontal session on InvestEU plus two parallel sessions on key sectors in the new Multiannual Financial Framework, SME financing and Energy Efficiency.
The online format means that there wias not limitation on numbers of participants and it is hoped that the content and expert panel of speakers drawn from the European Commission, EIB Group and financial instruments practitioners in Member States will attract a high level of interest.