Fourth annual EU conference on EAFRD financial instruments for agriculture and rural development in 2014-2020, 5 – 6 June 2018, Sofia
Overview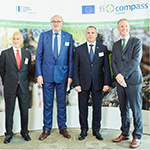 Picture: Mr Pier Luigi Gilibert, Chief Executive, European Investment Fund, Mr Phil Hogan, European Commissioner for Agriculture and Rural Development, Mr Rumen Porodzanov, Minister of Agriculture, Food and Forestry, Bulgarian Presidency of the Council of the EU, Mr Andrew McDowell, Vice-President, European Investment Bank
The fourth annual fi-compass EU conference on European Agricultural Fund for Rural Development (EAFRD) financial instruments for agriculture and rural development in 2014-2020 was organised by the European Commission's Directorate General for Agriculture and Rural Development (DG AGRI) in partnership with the European Investment Bank (EIB). In total 250 participants from 20 Member States met to discuss the role of financial instruments in supporting agriculture and rural development and also heard about the future of the Common Agricultural Policy (CAP) at the conference in Sofia on 5 and 6 June 2018, during the Bulgarian Presidency of the Council of the EU.
Conference day 1 – EAFRD financial instruments: the way forward for EU agriculture
In his opening statement, Phil Hogan, European Commissioner for Agriculture and Rural Development, highlighted the opportunities of using financial instruments under the EAFRD. Improved access to finance can foster innovation and modernisation in the EU farm and food sector and financial instruments are a key mechanism to address investment needs and to close market gaps faced by EU agriculture. Currently, six financial instruments under the EAFRD are already operational, at least 11 instruments should be launched during 2018 or early 2019, and more Member States are advancing with their preparations. A number of these instruments is being prepared under the EAFRD–EFSI Initiative. Financial instruments will also play an important role in supporting agriculture beyond 2020. To facilitate their use, the new legislative proposals for the Common Agricultural Policy (CAP) post-2020 foresee a more streamlined delivery model, simplifying EU rules and providing Member States with additional flexibility.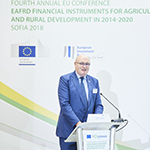 Picture: Phil Hogan, European Commissioner for Agriculture and Rural Development
Rumen Porodzanov, Minister of Agriculture, Food and Forestry, highlighted in his welcome statement the financing needs for Bulgarian agriculture and underlined the importance of financial instruments in increasing the share of private finance supporting rural and food businesses.
Andrew McDowell, Vice-President of the EIB, reported in his opening statement on the Bank's wide and increasing engagement in the agriculture and the bioeconomy sectors. The EIB Group is committed to help achieve the objective of 'doing more with less' in the agricultural sector. EAFRD financial instruments play an important role with this regard. The European Fund for Strategic Investments (EFSI) is also providing additional opportunities for rural Europe. Pier Luigi Gilibert, Chief Executive of the European Investment Fund (EIF), summarised the EIF's support for agricultural SMEs, including the EIF's involvement in EAFRD financial instruments in Italy and France.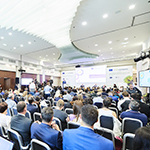 Picture: Event overview
The keynote speakers were joined by representatives from EU and national farm unions COPA-COGECA, the Bulgarian Association of the Agricultural Producers and the National Grain Producers Association, who shared their perspectives for the future role of financial instruments under a reformed CAP.
The Ministry of Agriculture, Food and Forestry, which is the EAFRD managing authority in Bulgaria, gave an overview of investment needs in Bulgarian agriculture and presented the results and lessons learned from using a financial instrument providing guarantees under the Rural Development Programme (RDP). The Bulgarian Development Bank concluded the first Conference day with a presentation of the experience with EAFRD financial instruments in Bulgaria.
Conference day 2 – Commission's CAP post-2020 proposal and how Member States are advancing with EAFRD financial instruments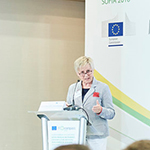 Picture: Ms Josefine Loriz-Hoffmann, Director, DG Agriculture and Rural Development, European Commission
The second day of the conference was inaugurated by Lozana Vassileva, Deputy Minister of Agriculture, Food and Forestry, Bulgaria. Josefine Loriz-Hoffmann, Director at DG AGRI, European Commission, outlined the Commission's legislative proposal for the CAP post-2020, highlighting its key elements, challenges, objectives and next steps. Michael Pielke, Head of Unit F.3 Bulgaria, Slovenia, Poland and Croatia; Financial Instruments at DG AGRI, focused on possibilities for EAFRD financial instruments post-2020 and explained opportunities of the new InvestEU initiative and its relevance for the agricultural sector. A further Commission presentation addressed the control and audit framework for implementing EAFRD financial instruments.
In the second part of day 2, the Conference focused on experience sharing between practitioners implementing EAFRD financial instruments in a number of Member States and regions. In three panel sessions, representatives from Lombardy (Italy), Estonia, Croatia, Mecklenburg-West Pomerania (Germany), Emilia-Romagna (Italy), Poland and Andalusia (Spain), presented how they are progressing with deployment of their EAFRD financial instruments and their lessons learned so far.
The Conference was graphically recorded and illustrations from the event are included in the photo gallery (Day1, Day 2). We encourage you to look at the video recordings and presentations from speakers which are available below, together with a selection of additional fi-compass resources.
Title
Speakers

Opening statement

Mr Phil Hogan, European Commissioner for Agriculture and Rural Development

Host welcome and policy statements

Mr Rumen Porodzanov, Minister of Agriculture, Food and Forestry, Bulgarian Presidency of the Council of the EU

Introductory opening statements

Mr Andrew McDowell, Vice-President, European Investment Bank

Introductory opening statements

Mr Pier Luigi Gilibert, Chief Executive, European Investment Fund

EU farm policy statements on the future of EU and Bulgarian agriculture and its investment needs

Mr Pekka Pesonen, Secretary General, COPA-COGECA

EU farm policy statements on the future of EU and Bulgarian agriculture and its investment needs

Mr Ventsislav Varbanov, Chairman of the Management Body, Bulgarian Association of the Agricultural Producers

EU farm policy statements on the future of EU and Bulgarian agriculture and its investment needs

Ms Mariela Yordanova, Member of the Management Board of the National Association of the Cereals Producers, Bulgaria

Q&A

Investment needs in the Bulgarian agriculture

Mr Anton Asparuhov, Head of Unit "Programming, planning, monitoring and technical assistance", Directorate "Rural development", Ministry of Agriculture, Food and Forestry, Bulgaria

Experience with EAFRD financial instruments for agriculture and rural businesses in Bulgaria

Mr Borislav Bogdanov, Risk and Monitoring Department, Bulgarian Development Bank

Q&A

Opening

Ms Lozana Vassileva, Deputy Minister of Agriculture, Food and Forestry, Bulgaria

The new CAP post-2020: general architecture and focus on EAFRD & financial instruments

Ms Josefine Loriz-Hoffmann, Director, DG Agriculture and Rural Development, European Commission

The new CAP post-2020: general architecture and focus on EAFRD & financial instruments

Mr Michael Pielke, Head of Unit F.3 Bulgaria, Slovenia, Poland and Croatia; Financial Instruments, DG Agriculture and Rural Development, European Commission

Q&A

Control rules and principles on financial instruments

Mr Jacques Hofmans and Mr Toma Sutic, Unit H.4 Assurance and Audit – Rural Development, DG Agriculture and Rural Development, European Commission

The Credit Fund in the region of Lombardy, Italy

Mr Paolo Zaggia and Mr Fabrizio Colarossi, Financial products and services directorate, Finlombarda S.p.A, Lombardy region, Italy

The Credit Fund in Estonia

Mr Madis Reinup, Member of the Board, Rural Development Foundation, Estonia

Q&A

Loan and Guarantee Fund in Croatia

Mr Krešimir Ivančić, Assistant Minister, Ministry of Agriculture, Croatia

The Credit Fund in Mecklenburg-West Pomerania, Germany

Dr Wolfgang Wienkemeier, Head of Unit, Ministry of Agriculture and Environment, Mecklenburg-West Pomerania, Germany

Multi-regional Guarantee Platform in Italy

Mr Valtiero Mazzotti, Director General, Directorate for Agriculture, Hunting and Fisheries, Emilia-Romagna Region, Italy

Q&A

EAFRD – EFSI Initiative for agriculture
Presentation of first pilot cases

Mr Dariusz Nieć, Director for Rural Development, Ministry of Agriculture and Rural Development, Poland

EAFRD – EFSI Initiative for agriculture
Presentation of first pilot cases

Mr Antonio Valverde Ramos, Deputy General Director, General Directorate for European Funds, Regional Ministry of Economy and Knowledge, Andalucia, Spain

Q&A

Closing remarks

Ms Josefine Loriz-Hoffmann, Director, DG Agriculture and Rural Development, European Commission