EAFRD financial instruments working with rural infrastructures, 19 June 2018, Brussels
Overview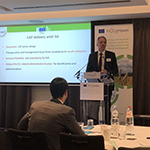 Picture: Mr Michael Pielke, European Commission, Directorate-General for Agriculture and Rural Development (DG AGRI)
Rural Europe relies on infrastructure both to provide essential services for its residents, businesses, and visitors and to exploit its resources in a sustainable way. The European Agricultural Fund for Rural Development (EAFRD) can invest in rural infrastructures through financial instruments that support income-generating or cost-saving projects in sectors such as energy, waste, water, Information and Communication technology (ICT), among others. Within this context, a fi-compass EAFRD workshop took place on June 19 to help explore how Member States can advance with EAFRD financial instruments for rural infrastructure purposes.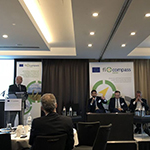 Picture: Mr Bruno Robino, Head of fi-compass, European Investment Bank, Mr Andrea Bua, European Investment Bank, Mr Marco Naseddu, ERDF ROP Managing Authority, Sardinia Region, Italy and Mr Pierre-Emmanuel Noël, European Investment Bank
Michael Pielke, DG Agriculture and Rural Development, European Commission, opened the workshop by highlighting the range of rural infrastructure projects that Rural Development Programmes (RDPs) could invest in through EAFRD financial instruments. Advantages were observed from designing targeted financial instruments that both complement EAFRD grants and coordinate with other EU funding that is available for infrastructure in rural regions.
Initial findings from a fi-compass study about EAFRD financial instruments for rural infrastructure were explained by Frank Lee, EIB. The study aims to clarify the scale of investment needs for rural infrastructure and the hurdles that are currently undermining new public and private investments through financial instruments. 
 
Later in the morning, workshop participants received concrete advice and practical information from experts, managing authorities and financial intermediaries dealing with rural infrastructures projects and delivering finance to rural municipalities: the session included interventions from Andrea Bua and Pierre-Emanuel Noël, EIB, Marco Naseddu, ERDF managing authority, Sardinia Region, Italy, and Joost Declerck, BELFIUS, Belgium.
In the last morning  presentation Paul Soto, ENRD, provided an overview on first outcomes and takeaways of the Smart Village initiative, through which the European Commission is experimenting new ways to revitalise rural services through social and digital innovation.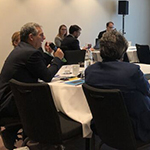 Picture: Q&A and discussion
During the afternoon, two parallel knowledge cafés gave the participants the opportunity to discuss and exchange on the following topics: Investing in rural areas and small villages: constraints and opportunities, moderated by Nicola Orlando, DG Agriculture and Rural Development, European Commission and Paul Soto, ENRD, and How to finance infrastructures?, moderated by Bruno Robino, EIB.
Workshop conclusions, delivered by Michael Pielke, DG Agriculture and Rural Development, European Commission, acknowledged a general positive consensus about the possibility that EAFRD financial instruments could offer for unlocking investments in rural infrastructure, given that more capacity building assistance is provided to project promoters and all the key stakeholders (public bodies, private finance, and rural communities).
| | Title | Speakers | |
| --- | --- | --- | --- |
| | Welcome and opening remarks. EAFRD support for infrastructure investment in rural areas: overview and potential for financial instruments | Michael Pielke, DG AGRI, European Commission | |
| | Study on financial instruments for rural, agricultural and forestry infrastructure | Frank Lee, Financial Instruments Advisory Division, European Investment Bank | |
| | Support to small municipalities, JESSICA Holding Fund, Sardinia, Italy | Andrea Bua, European Investment Bank | |
| | Support to small municipalities, JESSICA Holding Fund, Sardinia, Italy | Marco Naseddu, ERDF ROP Managing Authority, Sardinia Region, Italy | |
| | Smart Cities financing – EIB-BELFIUS partnership, Belgium | Pierre-Emmanuel Noël, European Investment Bank | |
| | Smart Cities financing – EIB-BELFIUS partnership, Belgium | Joost Declerck, BELFIUS, Belgium | |
| | Smart Villages Results from the ENRD Thematic Group | Paul Soto, European Network for Rural Development (ENRD) | |