Financial Instruments under the European Social Fund (ESF) 2014-2020 Brussels, 2 February 2016
Overview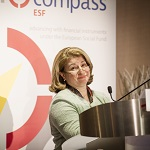 Picture: Andriana Sukova-Tosheva, Director, DG EMPL, European Commission
On 2 February 2016, fi-compass organised a high level conference on financial instruments under the ESF. This flagship event was attended by over 180 people including policymakers, managing authorities and audit bodies, as well as delegates from the banking and consultancy sectors.
Speaking at the launch of the conference, Andriana Sukova-Tosheva, Director at DG EMPL, European Commission, underlined the importance of addressing the needs of vulnerable people. Given the current levels of unemployment throughout Europe and the difficult socio-economic situation, she urged managing authorities to make use of fi-compass resources in order to better understand and plan financial instruments for ESF target groups.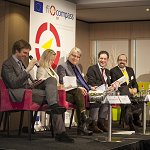 Picture: Stefan De Keersmaecker, DG EMPL, European Commission; Ann Branch, DG EMPL, European Commission; Per-Erik Eriksson, European Investment Fund; Cyril Gouiffes, European Investment Fund; David Gonzalez Martin, European Investment Fund;
Andrea Da Pozzo from DG EMPL, European Commission, explained the opportunities for financial instruments offered by the ESF framework in the 2014-2020 programming period. He went on to clarify the new legislative framework and its wider scope, as well as the Common Provisions Regulation. Mr Da Pozzo addressed the current use of ESF financial instruments in terms of allocation and final beneficiaries. He also presented the potential use of financial instruments and available budget under the various thematic objectives.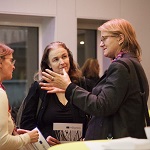 Picture: Event participants
The rest of the morning's session was equally well-received and these featured cases from Lithuania, Italy and Portugal. Rūta Dapkutė-Stankevičienė, representing the Ministry of Finance in Lithuania, shared their experience of setting up the Entrepreneurship Promotion Fund. This is an ESF financial instrument that is dedicated to promoting self-employment and entrepreneurship. The case gave other ESF managing authorities useful insights into the different aspects of this ESF instrument's implementation, its results in terms of leverage, job creation and future potential. To elaborate on experiences with other ESF financial instruments, case studies from Italy and Portugal were also presented. A fruitful exchange was possible during the morning panel session and it gave managing authorities the opportunity to ask their peers many questions.
The first of the conference's afternoon sessions focused on social impact investment. Jader Cané from DG EMPL, European Commission, explained the concept of social impact investment and its correlation with the ESF. Karen Wilson, from the Organisation for Economic Co-operation and Development (OECD), and Mario Calderini, from Politecnico di Milano in Italy, then presented reports and initial data on the use of impact investments.
A second afternoon panel focused on financial instruments available at the EU level. Ann Branch from DG EMPL, European Commission, and Per-Erik Eriksson from the European Investment Fund (EIF), presented the EaSI instrument. Cyril Gouiffes then described the EIF's Social Impact Accelerator and his colleague David Gonzalez Martin explained the functioning of the ERASMUS Master Student Loan Guarantee Facility.
Feedback from participants indicated that this was a very successful event, both in terms of interaction and attendance. All speakers agreed that the potential is high for implementing financial instruments under the ESF.
In wrapping-up the conference, Andriana Sukova-Tosheva concluded with encouragement for managing authorities to make a success of existing ESF instruments, because this would help provide a beneficial foundation for future ESF financial instruments to build upon.
| | Title | Speakers | |
| --- | --- | --- | --- |
| | Introduction | Cathy Smith, moderator | |
| | Welcome and opening remarks | Andriana Sukova-Tosheva, Director, DG EMPL, European Commission | |
| | Opportunities offered by the ESF framework 2014-2020 – State of play | Andrea Da Pozzo, DG EMPL, European Commission | |
| | Financial instruments at work – Experiences from the ground | Salvatore Pirrone, Ministry of Labour and Social Policies, Italy | |
| | Financial instruments at work – Experiences from the ground | Rūta Dapkutė-Stankevičienė, Ministry of Finance, Lithuania | |
| | Financial instruments at work – Experiences from the ground | Carla Pedro, Portugal Social Innovation | |
| | Financial instruments at work – Experiences from the ground | Alessandro Valenza, fi-compass expert | |
| | Social impact investments in Europe in the ESF framework | Jader Cané, DG EMPL, European Commission | |
| | Social impact investments in Europe in the ESF framework | Karen Wilson, OECD | |
| | Social impact investments in Europe in the ESF framework | Mario Calderini, Politecnico di Milano, Italy | |
| | Social impact investments in Europe in the ESF framework | Alessandro Valenza, fi-compass expert | |
| | Other opportunities for EU financial instruments | Stefan De Keersmaecker, DG EMPL, European Commission | |
| | Other opportunities for EU financial instruments | Ann Branch, DG EMPL, European Commission | |
| | Other opportunities for EU financial instruments | Per-Erik Eriksson, European Investment Fund | |
| | Other opportunities for EU financial instruments | Cyril Gouiffes, European Investment Fund | |
| | Other opportunities for EU financial instruments | David Gonzalez Martin, European Investment Fund | |
| | Closing remarks | Andriana Sukova-Tosheva, Director, DG EMPL, European Commission | |